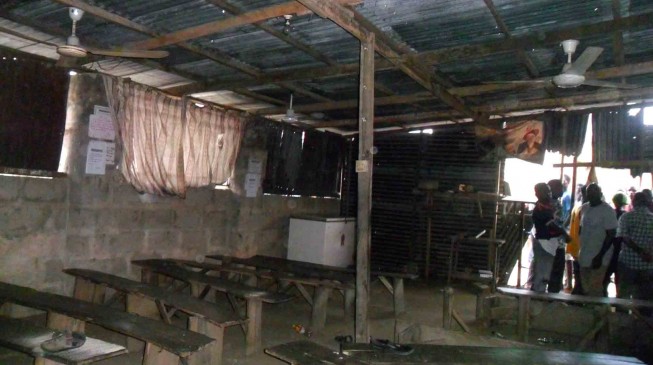 A man who survived the tragic incident that led to the electrocution of "over 30 people" at a football viewing centre in Calabar, capital of Cross River state, has his stars to thank.
The police later said seven people died at the viewing centre
A high tension cable reportedly fell on the football fans as they were watching a UEFA Europa league quarter-final match between Manchester United and Anderlecht.
Manchester United won the match 3-2 aggregate, with Marcus Rashford netting the winner in the 107th minute.
Speaking with Punch after the encounter, the survivor said a transformer near the viewing centre located in the Iyang-Esu area of Calabar municipal local government area, exploded during the match.
He reportedly said this caused a high-tension cable to drop on the viewing centre.
"It happened during the match between Manchester United and Anderlecht. I heard a deafening bang. I rushed out to see what was happening," he was quoted as saying.
"When I turned back to go inside the viewing centre, I saw a cable coming down on the centre and this electrocuted the viewers in the hall.
"It was a horrible sight to behold. I wish I didn't come out to watch the match. Come to think of it, I have DStv at home but I enjoy watching matches at viewing centres. I could have been dead. I can't believe that the people I was chatting and joking with a few minutes ago are all gone in a most anguishing way. This world is vain."
Copyright 2018 TheCable. Permission to use quotations from this article is granted subject to appropriate credit being given to www.thecable.ng as the source.