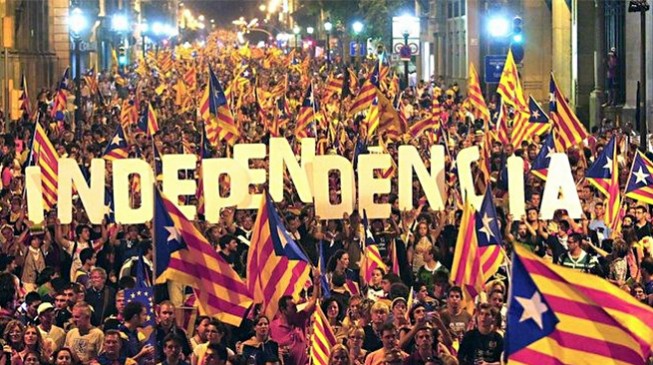 Unlike Scotland, which chose to remain with the United Kingdom, millions of Catalans have voted for independence from Spain in a bid to carve a new Mediterranean nation.
At a referendum for independence in September, Scotland chose to stay with the UK after 55% of the 4.2 million voters voted 'no' to independence.
Taking after Scotland, Catalans also requested a referendum for independence, which was denied by a Spanish constitutional court in September, but the region went on with an informal referendum on Sunday.
The result of Sunday's referendum showed that 80 per cent of the region is ready to split from Spain to form a new nation.
With 88% of votes counted, results have shown that out of the potential 5.4 million voters, more than two million people took to the polls, with about 1.6 million voting in favour of independence.
This is the second vote of its kind in Spain, but was not recognised by the central government, which declared the referendum illegal.
However, many have seen the vote as a symbolic referendum on independence from Spain, with supporters hoping it would force the Spanish government to a negotiation.
The vote was branded a "consultation of citizens" in other to bypass Spain's legal blocking of the ballot, and was set up and manned by volunteering grassroots pro-independence organisations.
There was a festive atmosphere in Barcelona as hundreds lined up to vote on Sunday, with many sporting pro-independence regalia to drive home their decisions.
Arthur Mas, pro-independence leader, has been accused by Rafael Catala, Spain's justice minister, of organising what he called pure political propaganda, saying the government could take further legal measures.
"(The referendum) is an act of pure political propaganda with no democratic validity; a sterile and useless event," Catala said.
Catalonia has been a part of Spain for more than five centuries.
Copyright 2018 TheCable. Permission to use quotations from this article is granted subject to appropriate credit being given to www.thecable.ng as the source.