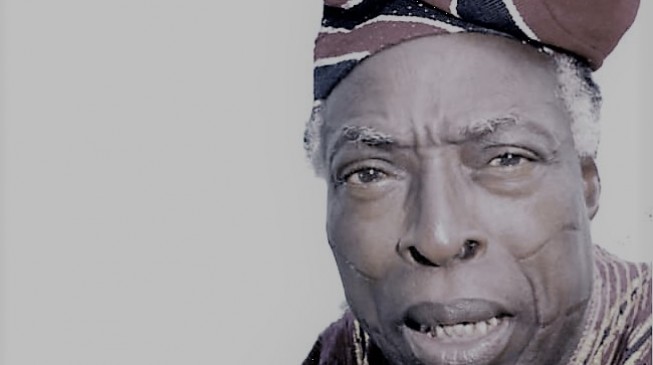 It has taken me quite a while to write a tribute to the memory of Adebayo Mosobolaje Ajibade Akande Faleti, who passed on nearly two months ago at 95. Several reasons prevented me from doing so, one is that numbness all humans experience when someone's death attenuate a plan that depends on the person's life.
About three years ago, I had a brain wave of a Yoruba television programme and distributed globally.
After a concept note, which I shared with a friend and colleague, who is more attuned to money matters, we settled on Baba Faleti as the first guest. We got a cameraperson and my friend started seeking financing.
I contacted my sister in-law who is Faleti's daughter and she broached the idea with Baba who was enthusiastic and asked us to come whenever we were ready. She reported back to me and asked to tag along whenever we wanted to do the interview. Obstacles on sourcing the funding required for the series terminated the idea and we continued with our day jobs until the man died. So I thought naively and perhaps selfishly, that the man would live forever. No one does and so as I joined others at First Baptist Church, Isokun, Oyo on Friday, September 8, for his funeral service, it was an opportunity again to reflect on his life and times. While it would be preposterous to write on someone one knows only from afar, Faleti's life was lived, at certain level, in the public glare that at least we can learn lessons from in building a better society.
But I never reckoned with the preacher of the day. Archbishop Emeritus Ayo Ladigbolu, a scion of the royal Ladigbolu family from Oyo, and raconteur held us all spellbound for over an hour as he told us about the Faleti we did not know. He told us how preaching that day was in fulfillment of Faleti's wishes, showing that the late broadcaster, poet, artiste and author, was a meticulous person. He knew the power of identity and this was seen in the unique way of bending his traditional Yoruba cap even when acting. Witty, cerebral and poetical, Baba Ladigbolu weaved a tapestry of Faleti's life that nobody, yes I observed, left the sanctuary till he finished. The measured cadences he employed in delivering the message just as he kept switching between English and Yoruba languages mesmerized the congregation with many sitting on the staircase while others stood at the entrance.
One of the myths about Faleti that Ladigbolu shattered was that he practiced syncretism and not contented with the Christian faith. Indeed some never associated the late broadcaster with Christianity but the testimonies of his two pastors at Salem Baptist Church, Yemetu, Ibadan and Isokun, Oyo put paid to this. Ladigbolu's message also debunked this as he shared with us an encounter Faleti had with a junior colleague who asked him to show the way to success. The person went ahead to join the Ogboni Fraternity and was shocked that Faleti was not at the meeting as he thought he was a member.  The retired archbishop also regaled us with a story of how Faleti and others were shooting a film and a group of dogs kept barking continuously until he went there and spoke to them in Yoruba asking them to allow the shoot. Thereafter, the dogs stopped barking until the shoot ended but they still kept quiet until the owner asked Faleti to speak so that they could continue barking. This elicited gales of laughter from the audience but Ladigbolu insisted that Faleti was a true Christian who never betrayed the ideals of Jesus Christ. He further showed allegiance to the faith by willing a large expanse of land in Agboye, Oyo to the Baptist church he attended till death.
He also spoke of how the Broadcasting Corporation of Oyo State (BCOS) under Faleti had just one outside broadcast van as he refused to inflate the cost of new vans as demanded by those who will approve the purchase. The critical question Ladigbolu posed was to the Yoruba nation on our oral literature as it concerns poetry and music. After the generation of ewi exponents like Tubosun Oladapo and Lanrewaju Adepoju, whither the next, he asked. Faleti's life demonstrated vividly that fluency in English is not a deterrent to fluency in one's mother's tongue. He studied English at the university but his dexterity with Yoruba and French languages was unparalleled.
Those of us who had the benefit of growing up in Ibadan will remember a jingle on Radio OYO:
Ise eni ni ise ni
O ba s'agbe
O ba s'akowe
Ise eni ni ise eni
Bo je inaja Bo j'oniworobo
Ise eni ni ise eni
B'iranse lo si je l'abe ijoba
Ise eni ni ise ni
Ma tiju ise re
Ikan ki tiju a mole
Era ki tiju a yena
Alapandede ki tiju a gun ogiri ni gbangba  
Ise eni ni ise ni 
This jingle was voiced by Faleti whose stewardship also gave Nigeria the first phone-in programme on radio Eyiara, a legacy that endures till date.
Perhaps, the most relevant aspect of Faletis's life was his decision to request for an administrator and an accountant while appointed to lead MAMSER by the military. With unbridled access to money, he could have generously helped himself but he demurred preferring others to be in charge of money. He lives on in his works.
Copyright 2018 TheCable. Permission to use quotations from this article is granted subject to appropriate credit being given to www.thecable.ng as the source.