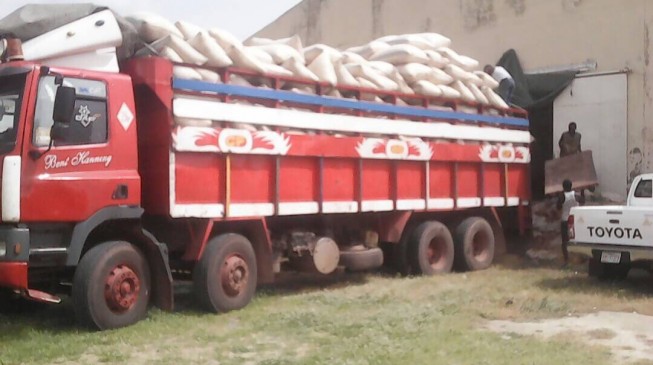 Richard-Mark Mbaram, lawyer and chief executive officer of AgroNigeria, says private commodities exchange company AFEX Nigeria was recently raided by the police in Kaduna.
AFEX provides warehouse storage to farmers to reduce post-harvest losses and also offers access to organised commodity trading and financing opportunities.
Mbaram said the raid took place on July 6, and that the police officers took away grains worth N85 million in an operation that lasted until midnight.
The lawyer also claims that the grains are currently being sold in Dandume market, Katsina.
"On July 6, 2017, one of the warehouses of AFEX Commodities Exchange Limited (AFEX Nigeria) in Kaduna was besieged by members of the Nigeria police force. They carted away grains belonging to AFEX valued in excess of N85 million in an operation that lasted till mid night, all at gun point," Mbaram wrote on AgroNigeria.
"This confiscation of 5,571 bags of maize is said to have been authorized by top police functionaries in Katsina and executed by the state's mobile police officers from the Katsina state special anti-robbery squad (SARS) unit.
"The said officers broke into the warehouse (which belongs to the federal ministry of agriculture, and leased to AFEX operations) handcuffed staff of AFEX on location, alleging to have a search warrant against some products but refusing to tender this warrant on demand by the staff of AFEX."
Mbaram said the police officers did not present a warrant until the end of the operation when they showed one against a company called Diversified Consulting, which he said is unknown to AFEX.
Since the alleged invasion, AFEX has filed a petition against the police before the magistrate court in Katsina, where the warrant was "obtained" as well as a restraining order against the police to prevent further raids.
Akinwumi Adesina, president, African Development Bank (AFDB), expressed sadness over the issue.
"Sad AFEX Nigeria ransacked by police for no reason. AFEX is a 1st rate exchange doing so well to support farmers," he wrote on Twitter.
Sad AFEX Nigeria ransacked by police for no reason. AFEX is a 1st rate exchange doing so well to support farmers! https://t.co/CQhYaEA4BA

— Akinwumi A. Adesina (@akin_adesina) July 14, 2017
Copyright 2018 TheCable. Permission to use quotations from this article is granted subject to appropriate credit being given to www.thecable.ng as the source.