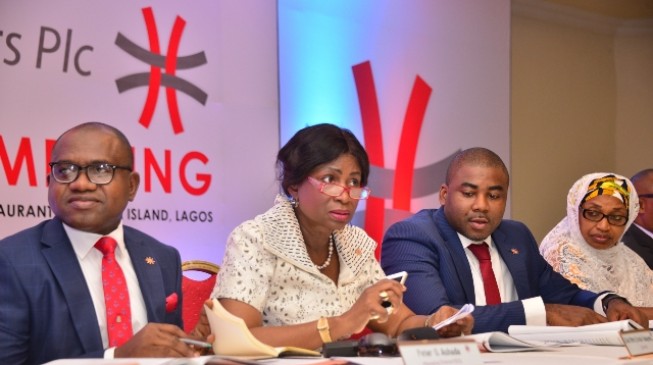 Africa Prudential Registrars lost 30% of its preceding year's profit in 2016 and closed the year with the lowest profit figure in three years. The share registration company faced the challenge of revenue weakness in the year with a drop of over 12% in investment income. Management kept costs under effective check except income impairment losses and tax expense, which are not within its control.
Investment income has become the main component of the company's revenue in view of the significantly reduced level of corporate activities that generates fees from transaction processing
and managing of corporate actions. That too was made possible by a backlog of unclaimed dividends upon which the company's investment portfolio has been built. Customers' deposits, made up largely of unclaimed dividends, provide 73% of funding for the company's assets of N16.82 billion.
The company earned N1.42 billion in investment income in 2016 from its N11.25 billion portfolio of financial assets. Its fee income from core operations improved by 8% to N994 million during the year. A drop of 12.4% in investment income accounted for a 5% decline in gross revenue to N2.42 billion at the end of 2016.  The company had grown gross earnings by 14% to a peak of N2.54 billion in 2015.
The drop of investment income in 2016 is against a major expansion in investment assets by over 30% in the year. Rapid growth in investment losses in the year explains the decline in the average yield per naira of investment assets. Impairment losses rose by over 177% to N147 million at the end of 2016.
The company's management kept operating cost under firm control with a flat growth in personnel expenses and a drop of 10% in administrative cost to show for the effort. Income tax expense was however outside its control, which advanced by 136%. That widened the gap between an 11.2% drop in pre-tax profit and a fall of nearly 30% in after tax profit.
At about N1.02 billion in 2016, the company's after tax profit is down to the lowest figure in three years. It had grown after tax profit by 19% to about N1.45 billion in 2015.
The company has an operating advantage of holding customer deposits in form of dividends, return monies and other interests received from clients but yet to be claimed. These amounted to N11.74 billion at the end of 2016, mostly made up of unclaimed dividends of N11.06 billion. This provides the main funding base for the company's investment portfolio of N11.25 billion.
Africa Prudential Registrars (formerly UBA Registrars Ltd) is one of the major providers of share registration service in Nigeria.
The company has a robust cash flow position with a cash balance of over N8 billion at the end of 2015. It applied a good portion of it to expand its investment portfolio in 2016 – which apparently enabled it to avoid a potentially worse revenue performance in the year. Despite that, it still closed the 2016 operations with a cash balance of N4.67 billion.
The company earned 51 kobo per share in 2016, down from 72 kobo per share in 2015. It has proposed a cash dividend of 30 kobo per share to shareholders on the company's register on 3rd March 2017. Payment date is scheduled for 28th March 2017. The company paid a total cash dividend of 60 kobo per share for the preceding year.
Copyright 2018 TheCable. Permission to use quotations from this article is granted subject to appropriate credit being given to www.thecable.ng as the source.