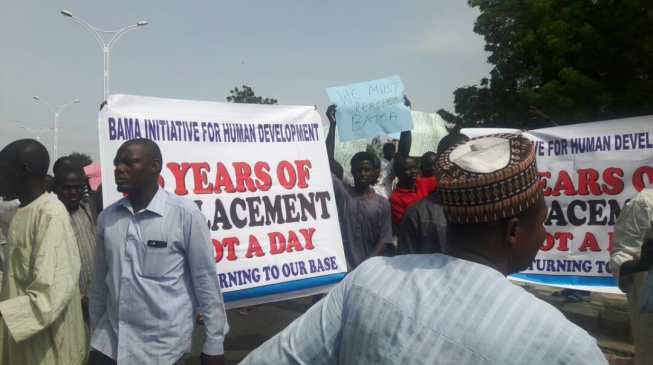 Four of the internally displaced persons (IDPs) arrested over the protest at a camp in Borno state have taken ill in prison.
An official of the Nigeria prison service disclosed this to TheCable on Wednesday. He identified the sick inmates as Mohammed Hassan, Grema Kyari, Kura Dogo, and Bura Marte.
The IDPs under the aegis of Bama Initiative for Human Development (BIHD) had staged a protest over the poor condition of their camp.
After their arrest, a magistrate court in Wulari, Borno state, remanded them in custody.
The official said there was no drug in place for the IDPs battling malaria and ulcer.
"We realised that anything can happen if the IDPs are left in this condition, they risk dying because we do not have the type of drugs they need," he told TheCable.
He said because of the sensitive nature of the matter, some of the officials agreed to inform Zannah Hamza, the lawyer of the displaced persons.
He added that the prison authorities responded by querying some of the officials.
"After we leaked the issue to the lawyer who requested for their health report file, we were immediately queried as we believed someone must have leaked this to the state government," he said.
"All personnel on duty were invited for questioning by the higher authorities.
"As it is, all efforts by their Lawyer, Zannah Hamza to get them out our facility for proper medical health attention also proved abortive as the state government had sent its delegation, compelling us not to release any report on their health status."
Victor Isuku, spokesman of the Borno police command, said the suspects were arraigned on a two-count charge of criminal conspiracy and disturbance of peace.
Human rights activists have condemned the arrest, describing it as unjust.
Abubakar Terab of BIHD has petitioned President Muhammadu Buhari, seeking his intervention.
Copyright 2018 TheCable. Permission to use quotations from this article is granted subject to appropriate credit being given to www.thecable.ng as the source.