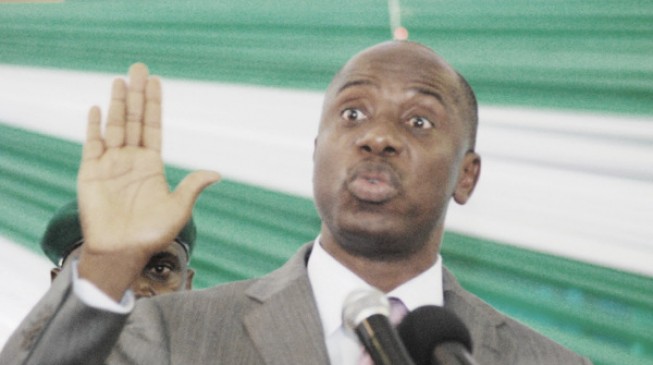 Chibuike Amaechi, governor of Rivers state, says Nyesom Wike, the gubernatorial candidate of the Peoples Democratic Party (PDP) in the state, can betray his biological mother for the love of money.
Speaking at a town hall meeting in Port Harcourt on Thursday, the governor described Wike as a thug who was unfit to lead the state, but said it would be the prerogative of the people to decide who they want to vote for.
"Nyesom Wike loves and worships money; he can betray his mother for money – nothing more, nothing less," he said.
"It is on to the people of Rivers state to decide who you want to vote for. You want to vote for God, or you want to vote for Satan?"
Amechi said PDP was afraid to come out for election because the era of re-writing election results was fading. He also urged the people to vote rightly and stand on their vote, no matter the circumstances
"PDP is afraid to come out for an election; they are used to writing results and the era of writing results is coming to an end. How can you see a man like a tout like Nyesom Wike and you will allow him to address you?
"Be assured that no matter how many criminals Nyesom Wike brings out, no matter how many militants he brings out, if we hold our vote and vote rightly, we will defeat him.
"Wike is in a fight for immunity and by God's grace he will not get immunity because he has to answer for all the death in Omofro. Who killed the people they killed in Omofro? Who killed the two persons in my local government area on Saturday March 28?"
On removal of the resident electoral commissioner of the state, he remained optimistic that more INEC personnel would be available to supervise the election in the state.
He said the people of the state should be careful with Gesila Khan, accusing her of helping PDP win the election in Rivers state.
"The woman is clear about what she wants to do," Amaechi said.
"Her plan is to deliver PDP; she is not joking about it. She is serious about it. Your own job is not allow her do what you don't want her to do. I won't allow her to do that in my village."
Copyright 2018 TheCable. Permission to use quotations from this article is granted subject to appropriate credit being given to www.thecable.ng as the source.