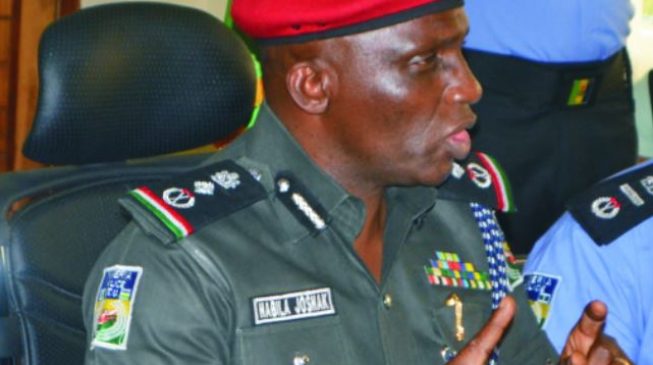 The Nigeria police force has cautioned its officers against harassing voters during the Saturday governorship election in Anambra state.
Joshak Habila, deputy inspector-general of police (DIG) in charge of the election, urged the officers to remain responsible during the poll.
"We don't want you to go and take igbo (marijuana) or burukutu (a local liquor)," he told the officers in Awka, Anambra state capital, on Friday.
"Don't harass any voter. If you see innocent persons and you fire them, you will also be dealt with.
"But if you see anybody armed and going around to cause trouble, demobilise the person."
On the preparations of the police concerning the election, Habila said all the necessary measures have been put in place to ensure the exercise is free and fair.
The Indigenous People of Biafra (IPOB) had called on Anambra citizens to boycott the election, after earlier threatening to disrupt it.
They had also threatened the citizens to "vote (in the election) and die".
But Habila said they have changed the threat to "vote and live".
He said in addition to the 21,084 policemen deployed for the exercise, members of the Inter-Agency Consultative Committee on Election Security (ICCES), including the army, the navy, the air force, have also deployed their men.
He said: "We did a threat analysis a long time ago. We did physical threat analysis. Some possible security challenges and threats were analysed. We came to the conclusion that we need to watch the 4,680 polling units closely.
"We will also pay close attention to the 326 wards and local government collation centres, the INEC headquarters and other places. We've already deployed security to those places. We have a standby unit.
"We have held a meeting with the ICCES. We're working with some of the templates that they have developed. We've gone on a show of force. The military came out in large numbers.
"We dominated Onitsha and we assured the public that it is very, very safe, and they should come out and exercise their franchise. We went to Nnewi and other places.
"They will vote and live. You will vote and live to reap the dividends of democracy. We've changed the 'vote and die' threat to 'vote and live'. And I see no threats at all."
Habila further said the election will be used to assess the performance of the police in terms of security provision across board, adding that: "We will not compromise. We will follow the rules of the game."
Copyright 2018 TheCable. All rights reserved. This material, and other digital content on this website, may not be reproduced, published, broadcast, rewritten or redistributed in whole or in part without prior express written permission from TheCable.