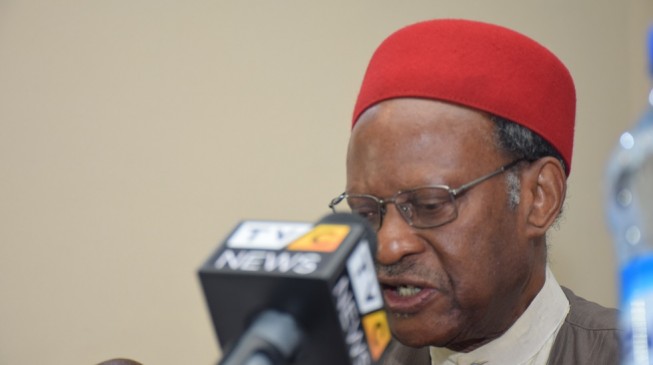 Emeka Anyaoku, former secretary-general of Commonwealth, says Nigeria has been moving backwards since it departed from true federalism.
The elder statesman said this while speaking at a forum organised by Arise TV.
Leaders from various parts of the country spoke on the clamour for restructuring, addressing whether the nation needs to restructured or not.
Some of the dignitaries at the event were Supo Shonibare, leader of Afenifere, a pan-Yoruba organisation; Nnia Nwodo, president general, Ohanaeze Ndigbo Eniola Bello, managing director of THISDAY; Albert Horsfall, former director general of National Intelligence Agency (NIA); Bashir Yusuf, former national chairman of the Peoples Democratic Movement (PDM) and Aluwalu Yadudu, constitutional lawyer.
Anyaoku, who expressed support for restructuring, express optimism that the process will help Nigeria achieve "greater national cohesion, development and political stability".
His audio recording was played at the programme.
"It will also enable the states look forward to dealing with a centre which would have far diminished responsibilities than it currently has. In that way, we will be able to revive the national spirit that existed when we were a true federation," he said.
"Virtually everyone recognises that the 36-state structure we have at the moment is unsustainable. If you have far fewer federating units, you will have a basis that lends itself more readily to accountability.
"Our founding fathers believed that the best system of government to suit Nigeria's multi-ethnic nature is true federalism and I believe that since we departed from that, we have been moving backwards."
Nwodo, on his part, said part of the need for restructuring Nigeria stems from the nature of the 1999 constitution which he said wasn't for the good of Nigerians.
He said the constitution, which is an attempt by the military "to transit us as quickly as possible into a civilian routine," does not reflect equity or representation of the various parts of the country.
"This is the only country in the world that answers federation but has no characteristics of a federal structure. Unfortunately, there is no independence of the federating units. These military constitutions were created with the concept of sharing national wealth rather than an engineering locomotive for economic transformation of the country," he said.
"This idea of creating a federation that makes every month for wealth collected from every part of Nigeria to be shared is a destroyed production. Restructuring today says change our constitution, it does not promote competition."
Horsfall said the call for restructuring is premised on demand for resource control and devolution of power.
He also said resource control is the key thing involved in the demand for restructuring
"Why should I produce the money and somebody here in Abuja shares that money and gives me what he thinks I should get," he asked.
Horsfall recalled that the various parts of the country were concerned about developing their natural resources before oil came into the picture and "everybody stopped working".
He said the greatest challenge facing the country is for Nigerians to be able "to produce and contribute to a central government that is structured in a manner that has very little control over what I do in the south-south".
However, Yusuf faulted the calls for restructuring.
According to him, "the overwhelming majority" of people agitating for restructuring are those "scrambling for political office and resources."
"The 2014 national conference recommended 18 more states and I am surprised that the same people calling for the restructuring of the country are also calling for the multiplication of constituent units," he said.
"So for me, Nigeria is not working, not because of bad structure, but because many Nigerians don't stand for any set of values. So any talk about restructuring must address the issue of values; what do we believe in as Nigerians. National unity doesn't say anything, what are those values that will bring us together."
Sonibare admitted that there is "nowhere in the world" where a multi-ethnic collection of peoples runs a unitary system.
He recalled that Nigeria's founding leaders negotiated a federal constitution as such, "there were no issues of ethnicity in the first republic."
"People who say that restructuring is something that is contrived by elite; maybe they don't appreciate the fact that if you are a collection of ethnic groups and if you don't devolve power to the various ethnic groups, you are encouraging a combustion, you are encouraging ethnicity to be the issue," he said.
Yadudu aligned with Yusuf's position, saying the clamour for restructuring is being pushed by "disgruntled elite".
"There was no consensus on the 2014 national conference report. My view is that it cannot solve the problems because it is undemocratic," he said.
"If you are going to change anything in the constitution, it must be on the basis of section 35 and a referendum cannot be used since it is not recognised by the constitution."
Copyright 2018 TheCable. Permission to use quotations from this article is granted subject to appropriate credit being given to www.thecable.ng as the source.