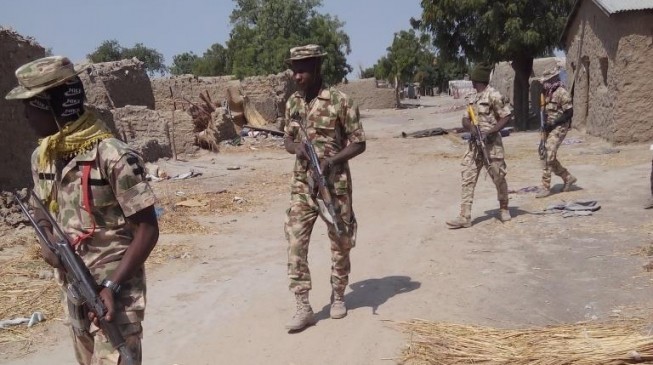 The Nigerian army says it has discovered an operational base of the Boko Haram sect in Lake Chad.
In a statement, Timothy Antigha, spokesman of 8 task force division, Borno state, quoted Stevenson Olabanji, the division's general officer commanding (GOC), as saying this when he visited troops of the 118 task force battalion under the division.
The statement said the GOC issued motivational orders to the troops, asking them to always ensure their weapons are serviceable.
It quoted Olabanji as telling the troops that the strike order on the secret Boko Haram location, which could be given at any time might be the "final one that would bring about the end of Boko Haram insurgency".
"The tempo of ongoing clearance operations will be increased, so be prepared. You may be ordered at any time to clear the remnants of Boko Haram elements in the identified locations," the GOC was quoted to have said.
Antigha added in the statement that the final phase of the onslaught on the insurgents was "evident".
The statement also stated that O.P. Oyekoke, the commanding officer of the battalion, earlier outlined the tasks being carried out by troops of the battalion.
Copyright 2018 TheCable. Permission to use quotations from this article is granted subject to appropriate credit being given to www.thecable.ng as the source.