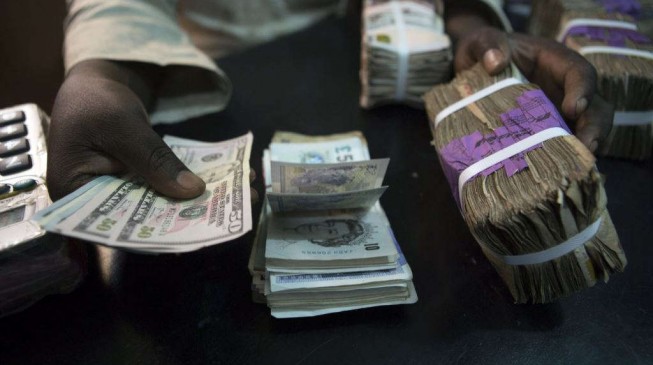 The Association of Bureau De Change Operators of Nigeria (ABCON) says it is willing to work with the Central Bank of Nigeria (CBN) to harmonise the multiple exchange rates in the forex market.
Aminu Gwadabe, ABCON president, disclosed this on Tuesday in an interactive session with journalists in Lagos.
He appealed to journalists to adopt a single foreign exchange rate system in their reportage, adding that quoting the rate at the parallel market was misleading as Nigerians could get better offer at the BDC window.
He said the BDC operators were ready to embrace a single-rate regime.
"We urge the regulators and the government to harmonise the multiple exchange rates that pervaded the 2016 fiscal year," he said.
"We also use this medium to appeal to members of the print and electronic media to adopt a single foreign exchange market rate system in their reporting and completely disregard the rates in the parallel market.
"The parallel market rate is small in volume and cash base, and is not recognised by extant laws."
The ABCON chief noted that Egypt and a few countries had developed the single exchange system, adding that it had helped them to reduce volatility and speculation in those markets.
While recognising the daunting task in switching to a "complete and single determined market rate", Gwadabe said that the task of identifying and blocking leakages rested on the CBN.
According to him, the foreign exchange market is volatile subject to the whims and caprices of speculators whose stock in trade is manipulation.
The financial expert explained that journalists have a critical role in ensuring that the dictatorship of speculators is met with the reportage of the true reality in the market.
Gwadabe reaffirmed the willingness of the association in working closely with the apex bank to ensure a greater flexibility and stability in the nation's foreign exchange policy.
He reiterated the association's resolve to embark on a nationwide media campaign to educate the public on the roles, and activities of BDCs so as to provide a guide in dealing with only CBN licensed BDCs,
In order to make ABCONs operation more transparent, he said that the association's operation was undergoing automation with more than 2000 BDCs already captured.
Since CBN lifted its ban on BDCs in 2016, the association had been working closely with the apex bank to ensure the stability of the naira.
The association has also put a self check on its members to ensure they do not operate above the guideline establishing them.
The association believes that working closely with the CBN, investor's confidence will be restored to the market, which will translate to a bridging of the gap between the parallel and the official window.
Copyright 2018 TheCable. Permission to use quotations from this article is granted subject to appropriate credit being given to www.thecable.ng as the source.