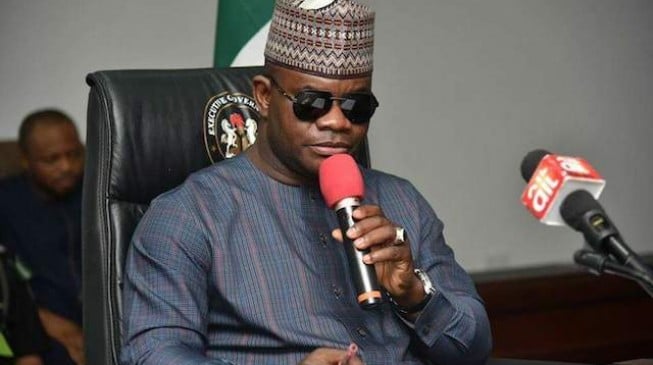 Yahaya Bello, governor of Kogi state, says some politicians are playing with the destiny of the people of his state.
On Wednesday, some workers in the state appealed to President Muhammadu Buhari to direct the National Emergency Management Agency (NEMA) to send food supplies and other relief materials to them.
The workers said they had not received salaries between 11 and 21 months.
But reacting through Kingsley Fanwo, his spokesman, Bello said demands of labour do not warrant the "desperate posture" to paint government as inhumane and irresponsible.
He said the government had been paying workers who have been cleared and verified, "except a few on the clemency list which is being addressed".
"The tyranny of labour's blackmail and campaign of calumny against government has clearly shown there are some underbelly factors surrounding the industrial disagreement between it and government in the state," he said.
"This government has shown transparency and accountability by publishing our accounts and what has been paid to individual worker in the state. No worker has come out to disclaim our facts.
"Facts at the disposal of government show that some desperate politicians are playing politics with the destiny of the people of Kogi state, who need the services for which these striking workers are paid. When we chose to confront the failed system of the past, we had no doubt of the attendant contention with the entrenched forces of retrogression who benefited from the blind corruption of the past.
"We have started a process of recovering our looted commonwealth from past leaders. A white paper implementation committee was constituted to recover the loot. But Labour was used to strikes. We shall remain focused in ensuring that we recover every kobo stolen from the coffers of this great state."
He said the previous administration in the state collected allocations running into billions of naira between September and December 2015 but did not "pay a dime to the workers".
Bello alleged that labour went on strike few weeks to inauguration of his administration in an attempt to disrupt it.
"We promised a reformed, robust, disciplined, digital and accountable civil service that will oil our New Direction Agenda. This administration is poised to pursue it to a logical conclusion to the benefit of the populace," he said.
"We are not ignorant of the fact that some disgruntled elements are uncomfortable with the digitalization of the civil service operations which will curb truancy and corruption. As a responsible government, we have never denied owing workers a few months salary. We have paid half of July and we are in the process of paying the balance as well as the August salary.
"The need for labour to embrace dialogue stems from the paucity of resources across the nation. It is not peculiar to our state. We are ready to dialogue with labour when they return to work and we hope they will do that in the interest of the good people of Kogi state.
"We will be decisive if they remain adamant and continue to go violent on workers who do not believe in their agitation."
Copyright 2018 TheCable. All rights reserved. This material, and other digital content on this website, may not be reproduced, published, broadcast, rewritten or redistributed in whole or in part without prior express written permission from TheCable.