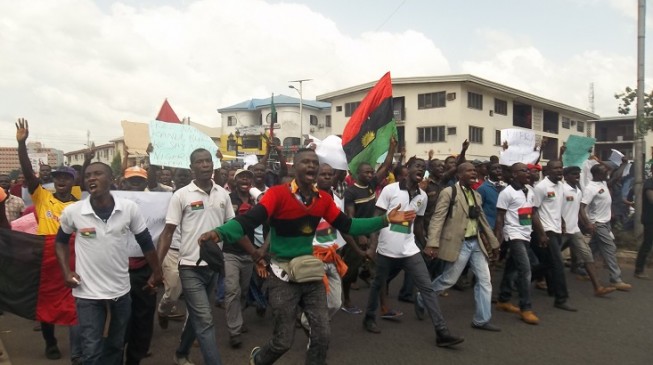 The Coalition of Northern Groups (CNG) on Wednesday said the Biafra agitations by the Indigenous People of Biafra (IPOB) is aimed at getting President Muhammadu Buhari out of office by any means.
According to the northern coalition, the intent of IPOB is to make the country "ungovernable" for Buhari.
The group also called on northerners to resist the urge to fall for reprisal attacks over the alleged attack on their counterparts in the south-east.
Addressing journalists in Kano on Wednesday, the CNG urged northerners in all parts of the country to remain calm and law-abiding and not be "dragged into taking laws in their hands".
"As cultured people with a long history of tolerance and respect for constituted authorities, we call on northerners to resist the temptation of carrying out reprisals and playing to the gallery," said Abdul-azeez Suleiman, spokesman of the CNG.
"Northerners in line with their disciplined nature must refuse at this point to be dragged into taking the law in their hands through unnecessary and unproductive confrontation with members of any sectional, ethnic or religious group.
"We must remain peacefully focused, mutually respectful, trusting and tolerant as we repose confidence in the ability and committed willingness of the Nigerian security agencies to handle the situation as well as protect the lives and properties of every Nigerian anywhere.
"The agitations and disturbances that have been ongoing ceaselessly since the coming to power of the Muhammadu Buhari and Yemi Osinbajo administration in 2015, are aimed at rendering the country practically ungovernable, and ushering in of anarchy and instability, thereby occasioning a change of government by whatever means and tactics.
"Targeting president Buhari's administration and singling him for attacks and irrelevant treatment is aimed at causing inter-regional crisis possibly leading to general unrest.
"Our stand on the current situation in Nigeria is that we will not fall to that instigation to allow a possibly foreigner or a mad man to plunge us into this unnecessary madness.
"We, therefore, dedicate effort in creating the right conditions for peaceful negotiations with other peace-loving groups in every situation on the political dispensation that should emerge now or in the future."
Copyright 2018 TheCable. Permission to use quotations from this article is granted subject to appropriate credit being given to www.thecable.ng as the source.