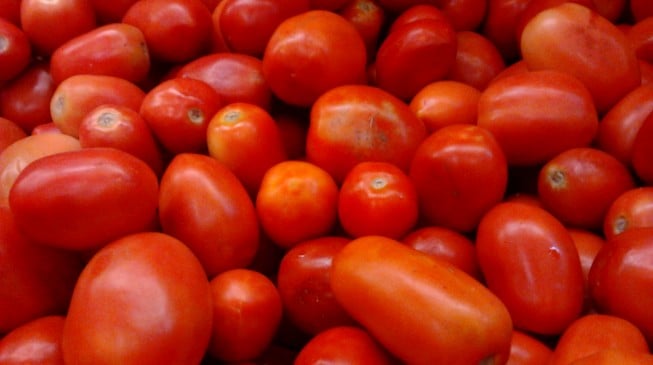 Farm produce from 5,000 farmers is not enough to supply the $20 million tomato processing plant owned by Aliko Dangote, Africa's richest man.
According to Reuters, the tomato plant,  which has been shut for more than 18 months, hopes to restart work in January, at just half of its capacity of 1,200 tonnes a day.
Dangote launched the company in March 2016, to reduce importation of tomato paste, estimated at 400,000 tonnes annually.
Operations at the plant, which is located outside Kano, were suspended in 2016 after an invasion by Tuta Absoluta, a leaf-mining moth, which destroyed tomato farms.
The situation resulted in scarcity and higher prices of tomato during the period.
The plant needs about 40 trucks of fresh tomatoes per day with each truck handling 30 tonnes of produce.
At the start of the plant, it had signed deals with 5,000 farmers guaranteeing them to pay more than the market price.
Dangote spent about N4 billion on the plant and now plans to set up his own tomato cultivation scheme for around N10 billion to cover up to 70% of its needs.
"We are trying to weather out the storm, the cost is horrendous. It's a nightmare," A.L. Kaito, the managing director of Dangote Farms, said.
Kaito also explained that farmers were now being supplied with a Dutch seed which is expected to gradually boost the yield to 50 tonnes of tomatoes a hectare from 10 to 15 tonnes now.
Tomato production in Nigeria is estimated to be around 1.5 million tonnes of tomatoes annually though a large part of this harvest gets spoilt before getting to the consumer as a result of difficulty encountered in transporting the goods due to bad roads.
"We don't have fertilizers and there is no power for cold rooms. We need subsidies for our production," Reuters quoted Sani Yadakwari, chairman of 10,000 tomato farmers in Kano state, to have said.
The President Muhammadu Buhari administration has expressed intentions to reduce dependence on imported items.
The government placed a ban on 41 items and waived duties for greenhouse and processing equipment to encourage agriculture investments.
Copyright 2018 TheCable. Permission to use quotations from this article is granted subject to appropriate credit being given to www.thecable.ng as the source.