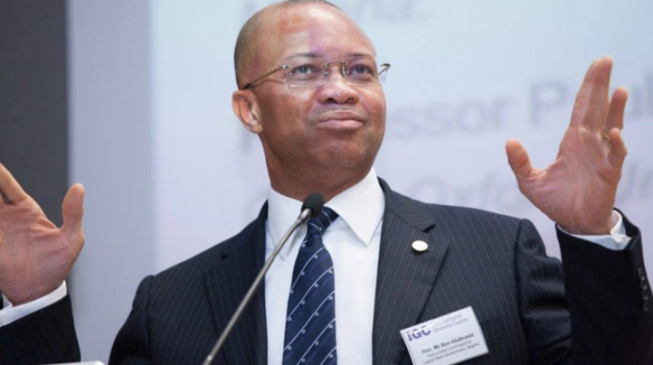 Ben Akabueze, director-general of budget office of the federation, says the reduction of overhead allocation to ministries, departments and agencies (MDAs) is because "government has grown excessively".
Speaking at a meeting with Bayo Onanuga, managing director of NAN, who paid him a visit at his office on Thursday, Akabueze said the reduction of overhead costs cuts across all MDAs.
The DG explained that government now has agencies that were not existing before as this is also a reason for the reduction of overhead costs.
"The picture you've painted about declining overhead allocation cuts across all agencies of government. And the primary reason is that government has grown excessively. It's not like the aggregate overhead budget has reduced. No it hasn't, it is increasing. Last year, for instance, the aggregate overhead budget was N163 billion and 2017, we sent N226 billion," he said.
"It may not necessarily translate to any significant change in what you get, because government has got too many agencies that didn't exist at that time when you were getting N40 million per month."
He stated that the 2016 budget underperformed its revenue projections as government recorded only a total revenue of N2.9 trillion.
"In 2016, we required N1.3 trillion to pay interest on loans and N2.2 trillion to pay personnel, so by the time, you pay personnel, pay interest on debt, you are already at  N2.5 trillion and your total revenue is N2.9 trillion," he said.
"So your total revenue is taken up by personnel and interest on loans and that is why overheads are not released on time because it takes least priority. Right now we are in May and overheads have only been released for January and February, yet everyone has collected salaries up to April and are warming up to collect for May.
"The present administration has set a policy to spend at least 30 per cent on capital infrastructure. So personnel, pensions debt servicing  and capital expenditure eats up 85 per cent, leaving 15 per cent for statutory transfers to national assembly, judiciary, service wide charges and overhead cost of running all of government.
"By the time you finish all of this, you'll find that the overhead cost is the last to be paid. So overhead costs have been taking the brunt of this situation."
Speaking earlier, Onanuga, said it was difficult running the news agency with an overhead cost of N10.3 million which was formerly N40 million.
He explained that the agency wants to embark on projects that would make it have alternate funding.
"Our monthly overhead approval is around N10.3 million down from about N40 million. And we are running an organisation that incurs a running cost of about N38 million a month," the NAN MD said.
"This is a challenge because we operate from 36 states and 22 district offices. We have 501 journalists and 850 other staff."
Copyright 2018 TheCable. Permission to use quotations from this article is granted subject to appropriate credit being given to www.thecable.ng as the source.