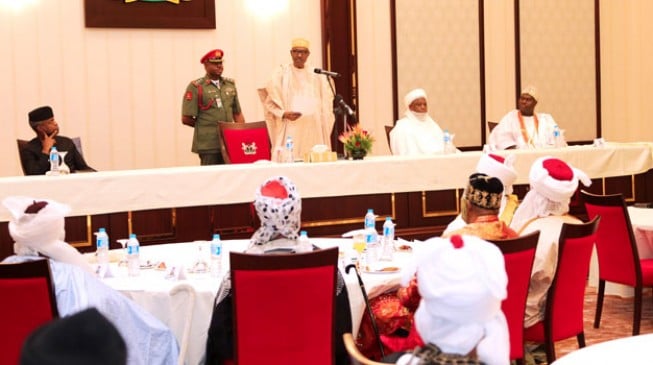 President Muhammadu Buhari has appealed to governors to pay salaries and pensions owed in their states.
During a meeting with members of the national council of traditional rulers on Monday, he decried the way the Paris Club refund was spent by some state governors.
The federal government had on May 4 released details of the second tranche of Paris Club refund to states totalling N243.795 billion.
The refund is in respect of over-deductions on Paris Club, London Club loans and multilateral debts between 1995-2002.
The president frowned at the inability of the affected state governments to pay the retirement benefits and outstanding salaries of workers with the payment of the refund.
He said: "We have to digress this much because I would like to convince you that I'm living with the problems of this country day-by-day, and mostly those of the ordinary people.
"There are Nigerians that haven't been paid for six months; there are Nigerians that have not been paid their retirement benefits for years.
"I'm appealing to the governors, (that was why we voted money, we borrowed money), please make sure anybody under you, pay them because most of them depend on that salary to pay rent, school fees."
He pledged that his administration would continue to do its best in executing developmental projects to uplift the standard of living of all Nigerians irrespective of their geopolitical backgrounds.
The president noted with delight that the country would be witnessing bumper harvest across the country, this year.
He said the bumper harvest was as a result of the prayers of Nigerians which was graciously answered by God.
Copyright 2018 TheCable. Permission to use quotations from this article is granted subject to appropriate credit being given to www.thecable.ng as the source.