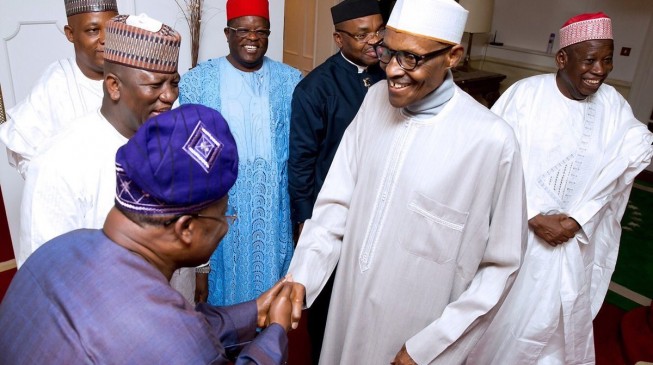 As a retired general who was used to giving orders, President Buhari must have learnt many life lessons as a result of ill health. "I feel I could go home, but the doctors are in charge…I've now learnt to obey orders, rather than be obeyed," the president told his media team, who visited him in London.
After a long period of treatment, it is expected that the president would need some time to boost his immune system, considering his age. But he is eager to come back home, as he claims. Thanks to protesters demanding that he returns or resigns.
The president has ruled out resigning. He's keen on going back to his very stressful job, which requires his attention 24/7. (Presidents even hold important meetings while having breakfasts.)
Ordinarily, anything that reduces stress would make an elderly person live longer – not to speak of one who has been ill for some time. (As people reach old age, wounds take more time to heal and cold becomes harder to shake.)
Little wonder we have seen sick and aged presidents making a mockery of governance in Africa. A good example is President Mugabe. Mugabe's aides argue that he hasn't been sleeping in meetings as we have seen in pictures, but that he has only been resting his eyes. They say Mugabe is allergic to bright light.
President Buhari needs not follow Mugabe's path by trying to push himself. He needs not push himself to attend meetings – especially cabinet meetings – if he needs to rest. The unnecessary headlines that would be generated when he misses any or sleeps off on any meeting would not be good for the polity.
He has another option.
He could decide to play the father figure, while his very competent vice, Prof. Yemi Osinbajo – who is currently functioning as acting president – continues to take charge.
In this scenario, any party bigwig who tries to use his presence – when he returns – to overrule Osinbajo would be redirected back to Osinbajo by Buhari.
It's likely that Buhari will not be able to attend every meeting when he comes back. And luckily the constitution doesn't give any limit to how long a person can act as president. He could allow his vice act on his behalf, while he finds time to get briefings from him and offer suggestions.
In the very toxic Nigerian political system, this option could have some consequences on the polity. There would be all kinds of rumours about how Osinbajo is trying to fix his men – maybe members of The Redeemed Christian Church of God or the Yoruba – in strategic positions. And probably strategize for 2019. The president shouldn't listen to this. Most times these are mere political gimmicks.
All the president needs is to give Osinbajo some targets and insist that he meets them. One of which could be to make sure modular refineries come on stream in the Niger Delta before the end of 2018. There are many targets the president could look out for while still resting.
The country is beyond any individual and the president should make the most of the condition he has found himself.
Copyright 2018 TheCable. Permission to use quotations from this article is granted subject to appropriate credit being given to www.thecable.ng as the source.