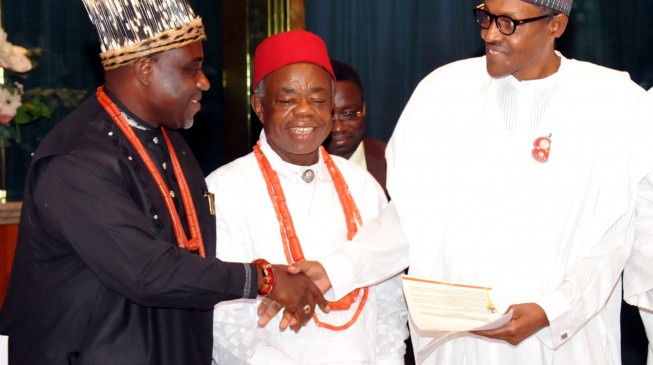 No matter how irritating IPOB must have been to the current administration, it scored an own goal by deploying soldiers to the south east. Even if the soldiers are taken away from the streets today, the damage has already been done.
The videos of soldiers brutalizing unarmed citizens in the south east would further tarnish Nigeria's international reputation and, to some extent, affect the war on Boko Haram. The supply of fighter jets and weapons from the U.S.and some of its allies was delayed, in the last administration, because of records of human right abuses by Nigeria's military.
And just when Nigeria seemed to have had that settled with Trump's administration commitment to sell high-tech fighter jets to Nigeria for the war against terror, countless videos of brutality have flooded the social media. In one case, soldiers even had to apologize to brutalized journalists. The damage done would take time to heal.
With these, IPOB – which has been flourishing with hate speeches and all kinds of social misbehaviour – has technically gotten some mileage. Some sympathizers feel they didn't deserve some of the treatments they got.
Obviously, the resort to brute force and labelling IPOB a terrorist group must have come from what was perceived as the non-cooperation of Igbo elites in quelling IPOB's menace.
The truth is that many educated Igbos aren't comfortable with the operations of IPOB. (IPOB is known to have shut down markets and threatened to stop elections.)
But with strong arguments in the south east that the Igbos are being treated as "second class citizens'' and "conquered people" because of widespread marginalization in terms of infrastructure and appointments, it would be extremely difficult to convince separatist groups and their supporters on why they should believe a strong and united Nigeria.
Secession can never be without great pains. Many informed Igbos know this. But, sadly, IPOB's rhetoric has gathered a lot of momentum. Even its leader, Nnamdi Kanu, seems to be losing control of the organization. All manners of people – including hoodlums — have hijacked the organization.
Now, IPOB has even put Igbo leaders on the defensive. IPOB once referred to members of Ohaneze as a bunch of old men who have sold their conscience. With this tag labelled on some Igbo elite, they have technically been placed on the defensive. No one wants to be seen as having been compromised.
Expectedly, Igbo elite groups – including the Ohaneze Ndigbo and Nzuko Umuna – have been issuing all kinds of criticisms on the current administration. They have openly complained of marginalization. But the response from the current administration hasn't been convincing. With this kind of lackluster response from the federal government, Igbo elites have nothing to use in making superior arguments in order to convince these restive youths.
Last week, the governors, having noticed the impact of these restiveness on the economy of the south east, decided to proscribe IPOB. This might calm nerves momentarily, but it might not quench the already ignited fire.
To quench this fire, the federal government should endeavor to address issues raised by Igbo elite – especially on marginalization — so that can go back to these youths with convincing arguments.
For the sake of the economy of the south east, the President Muhammadu Buhari administration should go back to the table and address all issues that have been presented to it by the Igbos. For those the federal government does not agree with, it should provide convincing arguments against them.
Copyright 2018 TheCable. Permission to use quotations from this article is granted subject to appropriate credit being given to www.thecable.ng as the source.