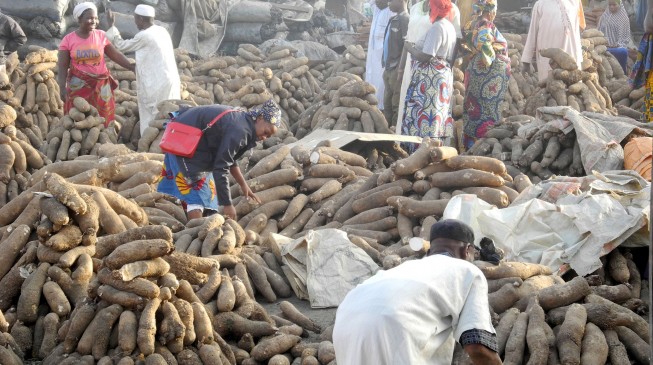 This week — precisely from the 29th of June — Nigeria will start exporting yams to the UK and America. The government is targeting an annual income of $8 billion from this commodity.
Actually, with the right policies there should be enough yams for local consumption and export. So far, many are still waiting for government's strategy on yam development.
The possible income from yams isn't just a theoretical one: a tuber of yam could be sold above $15 in the US. The demand for yam is not only from the millions of Africans abroad, extracts from yams could be used in making alcohols, all-purpose-adhesives, breads, cakes and starch sprays for clothes.
This is good news for farmers and would-be farmers in Nigeria. Actually, the European Commission's suspension of agricultural goods from Nigeria, because of their poor quality, to the EU from June 2015 up till June 2016 dealt a big blow to local exporters.
But governments seems to have woken up from its deep sleep. It has set up committees to boast the quantity and quality of locally produced yams. The government argues that with proper technology, there would be enough yams for local consumption and export.
Despite the fact that Nigeria accounts for about 70 percent of the global production of yam, it allowed Ghana to take over the global export market for yams. Actually, the last time Nigeria tried to export yams from Nassarawa State to Europe, they were rejected on account of their poor quality.
Surprisingly, Nigeria is planning to re-enter the international market without a coherent export and development strategy for yams. Ghana's success story in yam export wasn't a chance event. It started with the launch of a bottom-up national yam strategy in 2013.
To fight extreme poverty and create wealth in Nigeria, a development strategy for exportable products like pineapple, rubber, cashew and the like should be instituted and religiously implemented.
And for yams, for example, a development strategy should aim at increasing the production of good quality yams, attracting private sector capital and the promotion of industry-driven research on yams.
Without a holistic strategy to address the perishable nature of yams in storage, farmers and businesses will never enjoy the benefits of this commodity.
Besides, Nigeria seems to be on its way to repeating the mistake it made with its crude oil. It has no strategy for processing yams into wines, powders, slices and she is embarking on industrial exports in a few days. Adding value to yams before exporting them will create millions of local jobs and increase export earnings.
It is not clear how well the country has developed local expertise in yam production. The value research adds to the development of a commodity cannot be overemphasized. A private sector-driven research strategy would attract a larger pool of capital to institutes such as IITA and others scattered around the country. Nigeria cannot effectively promote a commodity abroad if she doesn't have a deep knowledge of it. Besides, the more yam-related technology we develop the richer local farmers would be. Nigeria could even become a net exporter of yam-related technology.
The private sector has a lot to gain from investing in yam-related research. After all, a fufu pounding machine which was invented by students from Kwame Nkrumah Technology of Science and Technology has found its way into many Ghanaian homes. There are still rooms for patentable research on yam related technologies.
Most importantly, a yam policy should have a farm theft and protection strategy embedded in it. Yam farmers cannot strive with recurrent destruction of farm lands by wandering herdsmen. Such theft and destruction strategy could be pursued with technology or local policing.
On the financial side, strategies such as Agricultural Credit Guarantee Scheme Fund (ACGSF) and the Commercial Agriculture Credit Scheme, which were introduced by government to guarantee low interest loans to farmers, should be strengthened.
Nigeria needs to go from talking to doing. And the best way to do this for the tens of Nigerian farmers is to pursue a yam development strategy and plan.
Copyright 2018 TheCable. Permission to use quotations from this article is granted subject to appropriate credit being given to www.thecable.ng as the source.