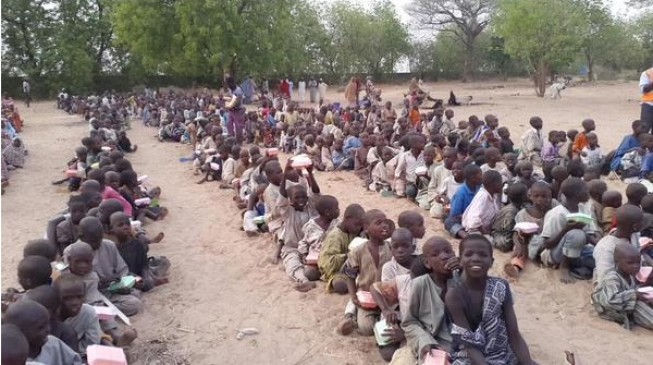 BY OGOCHUKWU PAUL
When I read an article by US based online media Huffington Post on Nigeria being among other four countries as South Sudan, Yemen and Somalia where children die on a daily basis due to famine in the NorthEast region, I felt mixed emotions of sadness and compassion.
Sadness because I knew that Nigeria has no business being among countries facing famine- not with all the positives on our side. Compassion for the vulnerable children who didn't asked to be born in Nigeria where they die from scarcity of food. The reason being given about the famine killing children in Northern Nigeria is that it is caused by Boko Haram- that not only have the terrorist group killed hundreds of thousands of people, rendered millions homeless but have made survivors of their terror attack unproductive. They not able to work and earn to feed and cater for their families due to the insecurity in their communities. I look at the branding of Boko haram as the cause of the famine as a side effect of a more punitive cause other than just the violent sectarian group. And I will get to buttress that view later in this article.
Even though famine is tragic and shouldn't befall any country whatsoever, one can still understand the other countries on the list, but Nigeria?
South Sudan, a north-eastern African country which just gained independence in 2011 is still hugely underdeveloped due to years of war. South Sudan economic revenue is largely from agriculture with exports of timber as its major source of earning. For a country that has been in war for decades and is just trying to find its direction, it's easy to see why famine could be excusable there.
Yemen as of 2013 had a 25-million population and a gross domestic product of 61 billion dollars with per capital income of 2,500 dollars.
Because of rise in food prices in Yemen due to water problems, there is increased poverty in the country. The difficulty in getting water to grow agricultural products in Yemen is due to their cultivation of Khat, a psychoactive plant that saps up to 40 percent of water drawn from the Sana'a basin each year. Yemen as a country facing famine, is to be seen as a result of a struggling economy. Unlike Nigeria, it is yet to experience a buoyant economy that the possibility of not facing famine could be avoided.
With a recent civil war history, Somalia is a poor country, mostly surviving on commercial economic activities that is funded by the Somali diaspora which why famine is a sad reality there.  An average Somali live on less than 1 US dollar a day.
The Huffington post in defining the attributes of famine wrote, "Famine has a very specific definition. It must meet three criteria before it can be declared: four out of every 10,000 children die each day, one in five families do not have enough food to meet human nutrition requirements, and one in three people are acutely malnourished to the point that they are too weak to go to school or work."
in 2006, I watched a documentary on CNN on Nigeria and we were profiled as a country where majority of its people were living below a dollar a day. Dollar was then $1 to #150 and I couldn't bring myself to believe that majority of families and individuals in Nigeria survived on #150 daily. I had questioned the objectivity in that profile. I had thought that CNN with that documentary exaggerated and probably was sort of using their influence as a powerful media entity to continue to shape the world's perception of Nigeria and Africa as a country and continent of destitute poor people who continually needed financial aid and other humanitarian efforts to survive. I imagined the factuality and reality of 60% of Nigerians surviving on a meagre #150 on daily basis but I became a witness to that reality a year later in 2007 when I went for undergraduate studies at Bayero University, Kano.
I was a volunteer for a social group in school known as Students In Free Enterprise (SIFE), Nigeria. The group's purpose was in visiting rural communities to teach, train and empower young girls and women with entrepreneurial skills in local soap making, beads making, dye and tie, the local manufacturing of briquette to cook as against using fire wood and the of use moringa to purify their water to prevent being infected with water borne diseases such as cholera. It was in visiting with other team members' local governments as Fagee, Dambatta, Minjibir, Karaye, Kumbotso, Ungogo, Gwale etc that I came in contact with the CNN description. I saw poverty and hunger first hand. I came in contact with hundreds of young people both girls and boys, women and men whose frail faces and gaunt bodies belayed people who indeed were surviving on 1 US dollar a day. They were hungry and malnourished. Majority didn't have any foot wear on and were just sitting around in their houses, faces burdened with when the next meal would suffice. I instantly understood why parents sent their children to the streets to become beggars in the guise of being Almajiris. The Emir of Kano, Muhammadu Sanusi 11, recently said that the North-East and North-West are the poorest parts of the world. The Monarch is himself from that region, particularly the North-West state of Kano, hence has facts to rely on in making that statement. I schooled and lived in Kano for nearly five years and judging from my narrative of my above experience in kano, Sanusi's statement is noteworthy. And when you bear in mind that the North region constitute the highest of Nigeria's population, it becomes more imperative.
The reason for this write up however is to question why a region that has had a greater take at the leadership of Nigeria at the national level than any other region is having sad reports of children dying from famine and diseases. In the 21st century, while countries of the world have moved pass hunger, and are creating innovative inventions that makes life easier, the sad fact remains that children are dying each day from shortages of food in states in Northern Nigeria. The tragic tale of children dying daily from famine in Northern Nigeria calls for sober reflection from the elite leaders in that region. The fact that the region has produced both in military and democratic rule more presidents of Nigeria than any other region in the country while also not also forgetting that they have had in past and still have state governors managing their resources but yet still suffers poverty and hunger that kills at least four children daily, is one anomaly the elite of that region should bury their heads in shame of.
When Nigerian leaders continue to exhibit the attitude of greed and selfishness and worst still a lack of political will to drive growth and development in the country, children will continue to die from famine. A reality that is emotionally devastating for me. But yet I am counting on all hope that this sad reality is offered immediate solution.
Paul is a journalist and writes from Abuja.
Follow us on twitter @thecableng
Copyright 2017 TheCable. Permission to use quotations from this article is granted subject to appropriate credit being given to
www.thecable.ng
as the source.