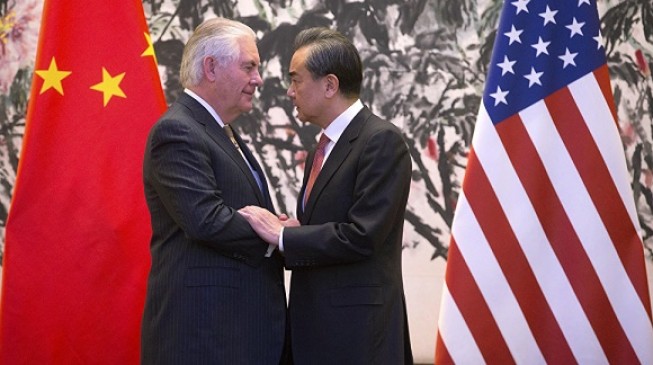 Wang Yi, China's foreign minister, has urged the United States to remain "cool-headed" over North Korea's missile tests and tensions in Asia.
The situation was at a crossroads, but must not be allowed to develop into a conflict, he said after hosting Rex Tillerson, US secretary of state.
Tillerson spoke of "dangerous levels" of tension, a day after suggesting the US might launch a defensive strike against North Korea.
North Korea is working to develop nuclear missiles that can reach the US.
Last week, it defied the United Nations resolutions by launching four ballistic missiles.
Tillerson is in Beijing for the final leg of his East Asia tour, which has been dominated by anxieties over North Korea.
In South Korea on Friday, he said a US military response would be on the table if North Korea threatened South Korea or US forces.
President Donald Trump tweeted that North Korea was "behaving very badly".
He added that China, Pyongyang's main ally, had done "little to help".
Yi defended the Chinese position, saying all parties were duty-bound to implement UN sanctions against Pyongyang, but also to seek dialogue and diplomatic solutions.
"We hope that all parties, including our friends from the United States, could size up the situation in a cool-headed and comprehensive fashion and arrive at a wise decision," Yi said.
Copyright 2018 TheCable. Permission to use quotations from this article is granted subject to appropriate credit being given to www.thecable.ng as the source.