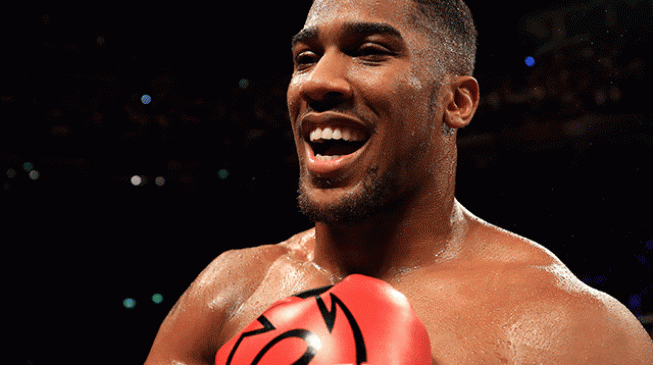 Anthony Oluwafemi Olaseni Joshua has been trending on social media and other news outlets for hours. His defeat of Wladimir Klitschko, a far more experienced boxer, earned him accolades. The historic fight, which took place at Wembly, was witnessed by 90,000 fans – the biggest fight the division had seen in years. 
Who would believe that boredom was one of the reasons the pugilist took to the profession.
"I was looking at becoming a builder, learning my trade, starting my own company. But when I moved to London with my mum and I didn't have many friends up here, I got into boxing out of boredom," Joshua had said in 2013.
It wasn't just boredom, Ben Ileyemi, his cousin, succeeded in persuading him to take up the career. He had dragged Joshua to Finchley Amateur Boxing Club back in 2007.
Many years down the line, Joshua has won many laurels, some of which include Haringey Box Cup (2009), Senior ABA title in 18th bout (2010), ABA and GB titles, silver at World Championships (2011), Olympic gold and BBC Superstars title (2012) and awarded MBE (2013) which was when he turned professional.
And of course, the real deal, knocking out Klitschko in a heavyweight fight on Saturday night.
He felt totally lost out training as an amateur boxer at the initial stage.
With zero inspiration except for boredom, Joshua ventured into boxing, having little or nothing to keep an eye unto.
"I was a complete novice in that gym," Joshua said.
"But they trained me like I was an Olympic champion. In my eyes, anyway. I went through pain, hard sparring, when I was getting beaten up. But it gave me the discipline I lacked."
But like the old adage which states that 'quitters never win and winners never quit', he didn't quit.
"I worked harder, studied more bouts and I began to realise they weren't hitting me as much as they used to. That's when I started thinking, 'You know what, I can get good at this."
SUSPENDED FROM BRITAIN'S BOXING SQUAD
He never had it all rosy in his career, anyway, with one of his darkest moments being when he was arrested and convicted for possessing cannabis with intent to supply.
He was sentenced to a 12-month community order and 100 hours' unpaid work.
"I wasn't getting funding so they were tough times," he admitted.
"I was just looking for an opportunity and you're not thinking about the consequences when you're younger. But I brought shame on myself and my family. It was really bad news for a lot of people who wanted to see me progress and I could see the pain it was putting my mum through. So I said to myself, 'This has got to stop. I'm a proud man and to be a Joshua is a privilege."
SET A 15-YEAR TARGET
Even as an amateur boxer, he had a clear definition of purpose already: "To remain great is the hard thing and that is what I have to do for the next 15 years of my career," he told the BBC, announcing his decision to go professional in his career.
"Deep down in my heart I always wanted to become a professional. After the games, I wondered if it was the right time.
"The Olympics has put me in a position to be great. The formula to success as a professional is a bit different to the amateurs but is still the same discipline. The regime I have been on is one that has worked and the only thing I have to do is tweak it. I will not slack. I will only add to my game."
TRIP TO NIGERIA
Joshua grew up for some of his early years in Ijebu-Ode Nigeria and returned to the UK halfway through Year Seven to join Kings Langley Secondary School.
Growing up on the Meriden Estate in Garston, Hertfordshire, Joshua was called 'Femi' by his friends and former teachers. He excelled at football and athletics and broke the Year Nine 100m record with a time of 11.6 seconds.
At 11, he joined his Nigerian mother Yeta in the most populous black nation on earth for six months and attended a boarding school within that period.
Joshua told MailOnline that he felt he went to Nigeria on holiday.
"I thought I was going there (Nigeria) on holiday," said the 27-year-old who also has an Irish-Nigerian father, Robert.
"I wasn't prepared for it. It was a boarding school as well. It was a change and I thought I was going to go for the full course: 5.30am in the morning, up fetch your water, put like an iron in your water to warm it up. Your clothes had to be washed and ironed.
"It wasn't an issue but I wasn't prepared. It was a good discipline. We got beaten. That's my culture: beating. The government raises your kids now; parents aren't allowed to raise their kids, because there is so much control about what you do or what you say. In the (Nigerian) culture it's family, outside support; everyone has a role in raising the kids."
At the end of six months, which he believed taught him discipline, Joshua and his family returned to the UK, and he resumed the path that led to him being discovered as a promising amateur fighter.
REJECTED AT HOME
Joshua is so proud of his roots. Four years before he won a silver medal for Britan at the Olympics, he made the attempt to represent Nigeria, but was rejected by Nigerian boxing officials.
Obisia Nwankpa, chief coach of the Nigerian boxing team at the time, blamed Joshua for his inability to fly the green white green flag.
"He reached out to us, asking to be part of our Olympic team, so we invited him to come down and take part in trials," ESPN quoted Nawankpa to have said.
"Unfortunately, he did not appear when we asked him to and came down only when we had finished our trials, finalised our team and were about to travel for a training tour. Maybe other coaches would have accepted it, but I could not.
"It's a pity he did not get his chance at that time, but the two boxers we selected then, Durodola Olanrewaju and Onorede Ohwarieme, were outstanding and experienced and there was no way I was going to drop them for somebody I had not even seen."
But despite that encounter, Joshua still embraces his Nigerian heritage. On numerous occasions he has not been shy to speak about his Nigerian roots.
In one post-fight interview muckaround with Nigerian reporter Oma Akatugba, he even attempted to speak some of his native Yoruba language.
And here is the good news: He hasn't forgotten his Nigerian background; on his upper right arm is a tattoo of the African continent with Nigeria outlined.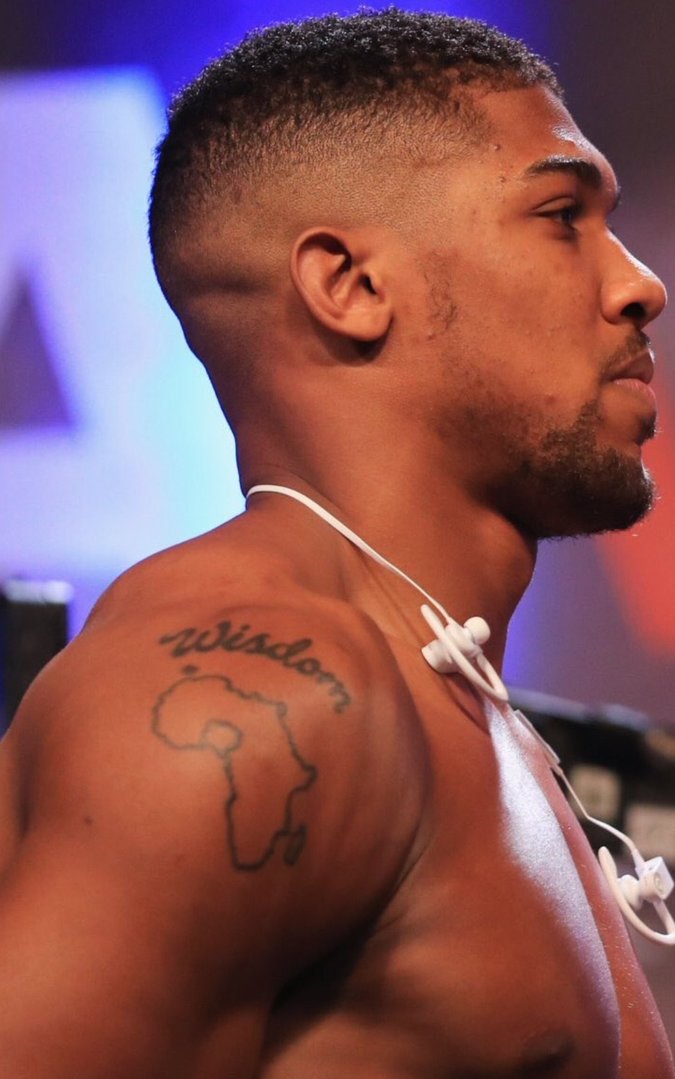 50 CENT IS ONE OF HIS INSPIRATIONS
Talking about 50 Cent's legendary Get Rich or Die Tryin' album, Joshua admitted thus: "When we were younger and getting into trouble, I remember listening to the CD with one of my close friends. And it was that mentality – basically succeed or nothing. I was obviously putting that mentality in the wrong direction and maybe that's why I've done alright in boxing, because I now use it in the right way."
Back in June 2015, Wladimir Klitschko had admitted that Joshua is the future of heavyweight boxing.
"The future of the [heavyweight] division belongs to Joshua. I haven't seen an athlete as athletic, as big, as fast, as talented as Anthony and if he's going to continue the way he is, developing himself, the future belongs to him," he had said.
Two years later, he has been proved right after all having been defeated by the same "future" he earlier talked about.
Joshua was born in Watford, England on October 15, 1989.
Copyright 2018 TheCable. Permission to use quotations from this article is granted subject to appropriate credit being given to www.thecable.ng as the source.