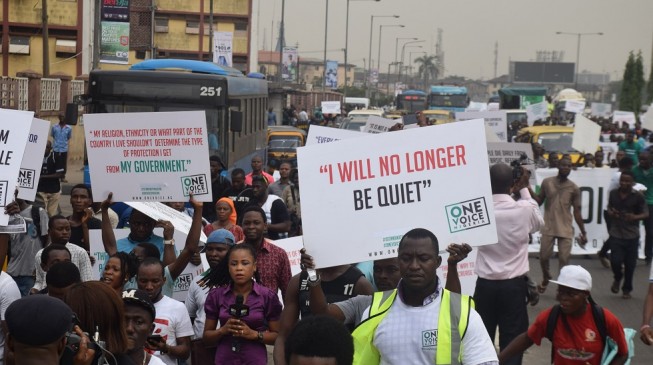 Green Nigeria, a coalition of young professionals, says the youths will no longer be dictated to by a generation that had its time to lead this country since independence.
The coalition was reacting to opinions by articles by Chude Jideonwo and Ohimai Amaize, publishers of YNaija and SIGNAL respectively.
Their articles were followed-up by a piece by Bolaji Abdullahi, national publicity secretary of the All Progressives Congress (APC).
In a statement on Thursday, Tonye Isokariari, on behalf of the group, said the Nigerian youths have been kept on the wings of leadership "for too long."
He said the country will not develop until the leadership role of youths is acknowledged by the older generation and ruling class.
"Let it be on record from this day that 2019 will not be business as usual. Nigerian youths will no longer approach the table of leadership on terms dictated to them by a generation that had its time to lead this country since independence. This is our time," the statement by Isokariari read.
"Our leaders, the older generation and the Nigerian ruling class must come to terms with the fact that in today's modern world, Nigeria cannot make competitive, real and sustainable development until they begin to acknowledge the role Nigerian youths can play in the leadership of our country.
"Our government must begin to see Nigerian youths as innovators, business leaders, thinkers, problem solvers and architects of a new Nigeria, not social media wailers good enough to be hired only as assistants.
"Accomplished Nigerian youths must be accorded the same recognition and respect young people like Mark Zuckerberg get whenever they visit Nigeria. Charity must begin at home."
Citing Audu Ogbeh, minister of agriculture, as an example, Isokariari said he first became minister of communication at 36.
"And they say this generation of Nigerian youths is too young or unqualified?" he queried.
"Enough of a political system that accepts the votes of young Nigerians every election year, pay them peanuts as political thugs and consultants during elections, discard them after elections and keep them in the waiting rooms and corridors of government offices for the next four years is not acceptable."
Copyright 2018 TheCable. Permission to use quotations from this article is granted subject to appropriate credit being given to www.thecable.ng as the source.