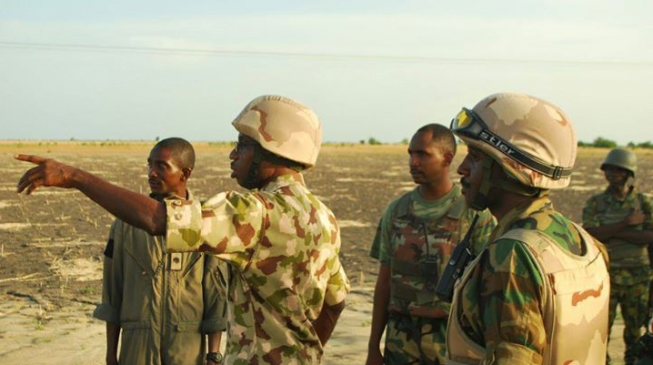 Lamidi Adeosun, commander of the  lake Chad Basin multi-national task force (MNJTF) says the factionalisation of the Boko Haram sect helped the military army in its fight against insurgency. 
Musab Al-Barwani, a Boko Haram commander, broke away from Abubakar Shekau's faction of the sect last year.
Speaking during a telephonic briefing with journalists from some media houses, including TheCable, on Thursday, Adeosun said links between the two groups had been severed.
"We are aware of how they broke from Shekau and was given some recognition by ISIL," Adeosun said at the briefing which held at the US consulate in Lagos.
"The break is helping the operation. The linkage between the groups have been severed."
He added that the MNJTF was collaborating with the Nigerian army to combat insurgency in the region.
"MNJTF is not supporting only Nigerian troops. It is set up by Nigeria and three other countries and Benin. We plan our operations together. We operate in collaboration and conjunction," Adeosun said.
He advised partner countries of AFRICOM to rely on their military strength, saying the command would only offer support.
While reacting to a question asked on the possibility of AFRICOM withdrawing its troops from African countries, Adeosun said it was their job to train the troops, but that they must learn to fight for themselves.
"Our job is to give Africa solutions to Africa's problems. It is also our job to develop the ability and capacity of the army to do their job on their own," he said.
"The fear is not necessary. This is because the support is based on common ground.
"All the operations- national and multinational rely on their own logistics. What AFRICOM offers is support."
Adeosun's stand was supported Osman Soubagleh, commander of the African Union Mission in Somalia (AMISOM),  who said, " we have to leave sometimes."
Soubagley added that youth and women empowerment remained a necessary tool in curbing the recruitment by extremist groups.
"We are training Somali national forces. AFRICOM has been in Somalia for over 10 years. Somalia should prepare its security forces against the next general election," Soubagley said.
"We do not intend to stay there forever. Somalia is for Somalis. They understand better their priorities and their objectives. We have to leave sometimes.
"The idea is to give these troops the training they need. They must be prepared to take up their national security.
We are working towards making Somalis accept each other settle issues like power and land sharing.
"Providing employment for youth and women remains the best way to stop the recruitment of Somalis by Al-Shabab.
"Al-shabab has no strong hold. We would defeat them in the near future. We just need some intelligence."
In the course of the meeting, Thomas Waldhauser, commander of AFRICOM, Soubagleh and Adeosun  discussed the outcome of the African Chiefs of Defence (CHOD) conference held in Stuttgart, Germany, between April 18 and April 20.
AFRICOM hosted the CHOD conference with 49 African military leaders, to discuss key security concerns and to strengthen AFRICOM'S relationship  with the continent.
"As indicated, this is the first time that AFRICOM and her partner countries will be meeting in one place," Waldhauser said.
"We met to learn how we can support each other and establish trust with our partners, and assist them with their long term goals.
"There were lots of good opinions put forward."
Copyright 2018 TheCable. Permission to use quotations from this article is granted subject to appropriate credit being given to www.thecable.ng as the source.