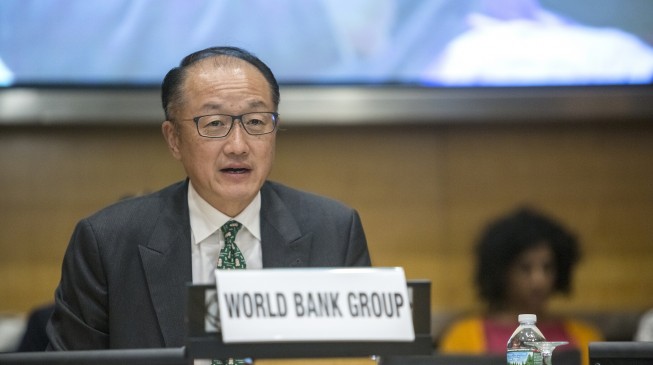 Jim Yong Kim, president of the World Bank, says the current global famine caught the world unprepared.
In March, the World Bank had said Ethiopia, Kenya, Nigeria, Somalia, South Sudan, and Yemen were at risk of famine, due to "devastating levels of food insecurity".
Kim however said on Thursday that despite all these, global growth remains on the upside.
"We are encouraged to see stronger economic prospects after years of disappointing global growth. There are still many downside risks, however, and countries that have the fiscal space need to continue with structural reforms," Kim said.
"This is vital to accelerating the sustainable and inclusive economic growth needed to end extreme poverty by 2030.
"We're meeting at a time when we face several overlapping crises, both natural and man-made, all of which add urgency to our mission. You and your colleagues have been reporting on them every day: conflict, climate shocks, the worst refugee crisis since World War II and famine in parts of East Africa and Yemen, which the UN has called the worst in 70 years.
"With the famine in particular, the world was caught unprepared. Too often, we forget about crises as soon as they abate – leading to a cycle of panic and neglect."
He said the bank had been assisting affected countries, and also disclosed his plan to meet with the secretary-general of the United Nations (UN) over the issue.
"We're already working with the affected countries and partners to respond to the famine – and we will use every tool we have, financial and advisory, to prevent famine in the future," he said.
"On Saturday, I will convene a meeting co-chaired with the United Nations secretary-general to ensure a coordinated, effective, and well-resourced response."
Kim added that machines would take 66 percent of jobs in developing countries.
"In addition to fragility, accelerations in technology are changing the landscape. We estimate that two-thirds of all jobs that currently exist in developing countries will be wiped out by automation," he said.
"At the same time, the internet, smart phones, and social media allow everyone to see exactly how everyone else lives, which is causing aspirations to rise all over the world. I see this everywhere I go. So, in the midst of these crises, and with rising aspirations, we must change the way we work.
"We have to find new and innovative ways to reach the poor, and make the world more secure and stable. Last week at the London School of Economics, I outlined how we're working to change our approach.
"We have to start by asking whether the private sector can finance a project. If the conditions aren't right, we will work with our partners to de-risk that project or, if needed, de-risk entire countries or sectors.
"Here's the good news: There's never been a better time to find those win-win solutions. There are trillions of dollars sitting on the sidelines, earning little interest, and investors are looking for better returns.
"That capital should be mobilised to help us meet the exploding aspirations of people all over the world. And with the crises we face, our task is much more urgent than we ever thought."
Copyright 2018 TheCable. Permission to use quotations from this article is granted subject to appropriate credit being given to www.thecable.ng as the source.