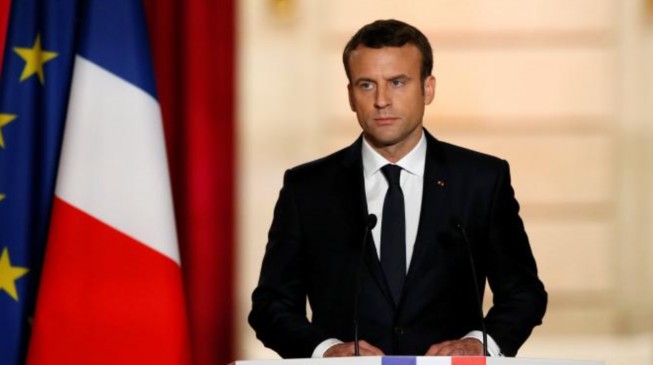 BY ADEOLU OYEKAN
Expectedly, many across the world are excited at the triumph of Emmanuel Macron, the political greenhorn who shredded the modern political history books of the French by pulling together within a short time, a winning movement that ran against the right and left establishments.
What is more, Macron's youthfulness (he's just 39) and will power has been the subject of discussion across the world, especially among many disillusioned youth who are increasingly fed up against local and global systems they consider as only beneficial to a few, nonetheless entrenched class dominated by gerontocrats. In a sense, it's d'eja vu. Macron comes about 8 years after Barack Obama upset the establishment too to become the President of the United States. In spite of his best efforts or owing to lack of them, Barack Obama's party is in its worst shape in decades, and will require some efforts to retake power. In the aftermath of the American presidential election, the audacity of hope has turned full cycle to breed despondency in many parts of the world as Donald's Trump barrelled down to power on the back of populist rhetorics, question marks about his character notwithstanding. In distilling the lessons of Macron's En Marche triumph therefore, it is important that a critical look be taken at the development, and the excitement subdued.
In 2014, Matteo Renzi, at the age of 39, stormed into the Italian premiership with a vow to do away with the old order. Three years down the line, he was roundly defeated in a referendum that forced his resignation. Alexis Tsipras, who about the same time and age became the youngest prime minister of Greece, has been slightly luckier. While he is still in office, the domestic and external obstacles he has had to contend with have meant that many of his campaign promises are yet unfulfilled. For a self-acclaimed socialist, he's been driving a very unpopular series of austerity measures which he seems to agree with his country's lenders are necessary if Greece is to get out of debt. But he has increasingly become unpopular.
There are, of course, different reasons for why these leaders appear to many to have been unable to live up to the hype that saw them to power. Some have argued that perhaps the voting public expect too much from this transformational figures, such that it is practically impossible for them to be adjudged as having done well, as a result of the huge public expectation. The point being made however, is that oftentimes, the celebration of an anti-establishment leader seems to be premature. Among other challenges, Macron may likely have to work with a parliament where he doesn't have the majority. Oftentimes, voters elect a president they are fascinated with, without caring as much about how he is to execute his agenda from the legislature. This then leads to attempts to strike bipartisan deals with a difficult parliament, with many voters feeling shortchanged. Macron's cabinet composition has seen socialists, moderates and right-wingers clinching positions in what is expected to be a broadly representative government, but there is always the possibility that such a move will backfire, especially if the ideological differences of cabinet members make it impossible for the government to form a cohesive plan of action. Add that to the fact that most politicians as the saying goes, campaign in poetry and govern in prose, then it becomes clear that the emergence of Mr Macron ought to be celebrated with measured enthusiasm.
Bringing the point home, what then are the lessons for Nigeria? Quite a number of observers, especially on the social media, are now angling for a transfer of power to the younger generation of Nigerians in 2019. Those who argue this way see gerontocrats in power as the biggest obstacle to progress in the country. But how true is this? Those who governed Nigeria immediately after independence, even under military rule, were not gerontocrats. While it is true that upon return to democratic rule in 1999 they had entered the farther phase of life, and have contrived to make themselves relevant in the scheme of things, younger ones who have had access to the corridors of power have not fared better. Anyim Pius Anyim, Dimeji Bankole, Salisu Buhari, Ayo Fayose, and many others came to political limelight in their prime, and yet didn't exactly do their generation proud. This then suggests that beyond the youthfulness of its leadership, a nation requires more to make progress. Such a leadership must not only be educated and broadminded, but also have the discipline to do right by the people irrespective of ethnic or religious identity. They must understand the nuances of managing, in the specific case of Nigeria, a multi-ethnic, hugely populated but underdeveloped nation.
More importantly though, is the need for a citizenry that is very conscious of its own powers and how to wield it. For as long as the ethnic or religious leaning of the leader is what determines how his actions and inactions are interrogated and assessed, enduring progress will remain elusive. The quality of leadership of a nation is most times determined by the resolve and bars demands of its people. A Macron-like feat cannot be replicated in Nigeria, talk less of making it count, for as long as we celebrate mediocrity and glamorize corrupt, incompetent characters.
It must also be appreciated that progress is a perpetual journey and not a destination. The French people who replaced Sarkozy with Hollande, and have chosen to replace the latter with Macron will not hesitate to show the new president the exit door upon completion of his first tenure if they are not satisfied with his performance. In that wise, those who despair over the turn of events after the hysteria that ushered in the APC government in 2015 must realize that nation-building is a marathon race. Rather than seek succour in apathy, they should become more organized and energized in 2019 and beyond. That includes for starters, having a very clear picture of the country of their dream, before auditing candidates for the different positions of power. In the meantime, bienvenue, monsieur Macron.
Oyekan is a lecturer at the Lagos State University
Copyright 2018 TheCable. Permission to use quotations from this article is granted subject to appropriate credit being given to www.thecable.ng as the source.