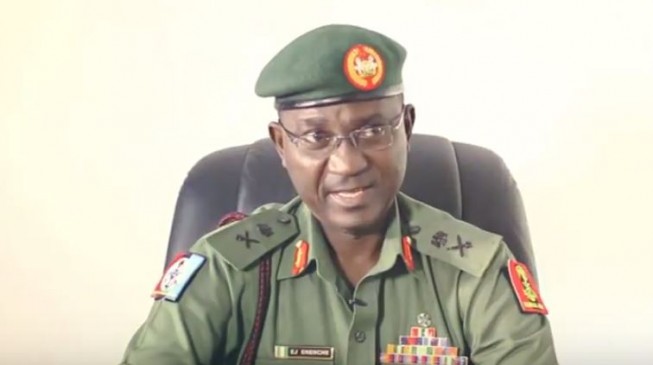 John Enenche, a major general and defence spokesperson, says the Nigerian military has evidence that Abubakar Shekau, the Boko Haram leader has been killed, but adds that there are many Shekaus.
Speaking in an interview with Osasu Igbinedion on The Osasu Show, Enenche said Boko Haram has been defeated but total peace can never be achieved in the northeast — like any other part of the world.
"Boko Haram has been defeated, but defeat is a process to achieving total peace. Defeat is a package and it has started; so why can we say categorically and confidently that Boko Haram has been defeated? We can say that because before then, you will agree with me that you cant move around the way people move around in the north-east now.
"Insurgents and terrorists had total control over some local governments, they were already collecting taxes as government, but now it is no longer so. They have been defeated, there is a level of security in Nigeria, but does that mean there is no armed robbery in Nigeria? If you study sociology, criminality, crime and all these vices are part of human living.
"There is no total peace anywhere in the world, and it can never exist. It is normal, it is a usual abnormality that comes with human existence."
Speaking about the repeated claims of the death of Shekau, the Boko Haram leader, Enenche said it is unfortunate that Nigerians will believe insurgents.
"It is rather unfortunate that people will believe liars and insurgents, criminals, who don't have the love of this country at heart. How true is it that the person you are seeing is the leader of Boko Haram? Somebody that appears on a video? Who can verify it, where is the forensic proof.
"The eveidence that we have that any Shekau that ever eliminated has been eliminated is as a result of our after action report. When you attack an area and there were individuals there from your intelligence, surveillance and recconaisance report, and now you take out that place and there's nothing left, that is an evidence.
"Anything can be uploaded, there is no forensic evidence that can say this. There are many Shekaus, there are various Shekaus, which is my strong belief.
"A Shekau is still alive, people keep posing as Shekaus, but who knows the real Shekau? Only the indigenes and the poeple that are there, and people like carrying big names, that is why we keep knocking out any Shekau that comes up."
Copyright 2018 TheCable. Permission to use quotations from this article is granted subject to appropriate credit being given to www.thecable.ng as the source.