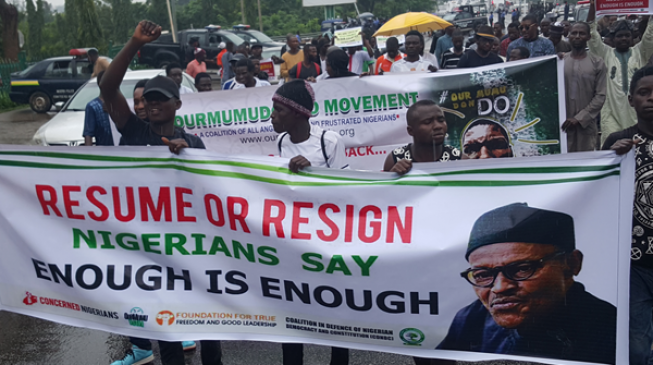 Before Nigeria slithered into a recession in 2016, President Muhammadu Buhari was considered as the best thing to happen to the country since "pure water".
I remember, in the build-up to the 2015 presidential election, how an ecclesiastical picture of Buhari was painted. He was sculpted as stoic, firm, and competent. Even before the exercise, it was clear to me that Goodluck Jonathan did not stand a chance of winning the election.
Buhari was a god; a mystery! He was the reformer and the archetype of integrity. I also remember in 2015, when the Economic and Financial Crimes Commission (EFCC) began cracking down on some officials of the Jonathan administration, a miscellany of Nigerians broke out into rapturous celebrations. Yes, the anti-corruption generalissimo is in charge. Or as Femi Adesina, presidential spokesman, put it "a new sheriff is in town".
In the blitz of ecstasy, some "social media influencers" trended a catchphrase, "GoHarderBuhari". Who remembers this baloney? Well, Buhari is still going harder in London.
I think, the reality of Buhari's incompetence first hit Nigerians like a pie in the face when he squandered (seven) months without appointing ministers. That was unprecedented. Nigeria was rudderless! But excuses were rustled up for him anyway. One of the excuses was that he was taking his time to do this bounden duty because he did not want corrupt people in his cabinet. Alas! When members of the cabinet were unveiled, many Nigerians became disappointed.
However, Nigerians still reposed some modicum of hope in the president after that shocker. They gave him the benefit of the doubt nonetheless. But his goodwill soon began to taper off. Nigeria wobbled from one confusion to another, until it hit the iceberg in August 2016 when the country entered into a recession – the first since 1983.
The Buhari administration then throttled into its factory of wiles to manufacture excuses. It blamed the Jonathan administration for all the challenges. It owned up to nothing. Even the failure to fully implement the "budget of change" was blamed on Jonathan. I am sure it must have thought about blaming the infestation of rats and bats in Aso Rock on him as well.
Hundreds of companies closed shop, millions of workers got laid off, inflation rate ballooned and unemployment level soared, but the government kept on manufacturing excuses for its naked incompetence.
But I surmise, the scale fell off the eyes of most citizens when a dollar was 520 naira. Though the price later fell marginally, Nigerians had to pay more for goods and services.
It is now more than two years since Buhari became president. But what achievement has he recorded? The president claimed in December 2016 that Boko Haram had been "technically" defeated. But the terror group keeps springing summer surprises on the military. In July, the sect ambushed a contingent of oil experts and soldiers. According to reports, 58 people were killed in the attack.
A few days ago, Godwin Emefiele, Central Bank of Nigeria (CBN) governor, hinted that Nigeria might enter into a violent vortex of recession. He said this after the monetary policy meeting. Hear him: "Available forecasts of key macroeconomic indicators point to a fragile economic recovery in the second quarter of the year."
"The committee cautioned that this recovery could relapse in a more protracted recession if strong and bold monetary and fiscal policies are not activated immediately to sustain it."
Let us not forget that this government had sung a swansong of the recession ending in the first quarter of this year. But here we are.
In conclusion, I agree with Ben Murray Bruce that Nigeria has not made any progress in the past two years. There is just no sign of progress anywhere. If there were, I would celebrate it. The great General Muhammadu Buhari is not the saviour after all. He has been demystified.
MEANWHILE…
Police crackdown on anti-Buhari protesters
The police displayed its barbarity again on Tuesday in Abuja – they tear-gassed and water-cannoned peaceful protesters. What for? The protesters were only asking that the president either resume office or resign. The police have remained a tool of impunity. There is nothing civil or humane about the Nigeria police. It remains a relic of brutality and corruption.
Saraki returns entire pension
The Kwara state government said on Wednesday that Senate President Bukola Saraki had returned the entire money paid to him as pension. Good decision. I urge other ex-governors who are now senators to do the same. But I doubt they would.
Copyright 2018 TheCable. Permission to use quotations from this article is granted subject to appropriate credit being given to www.thecable.ng as the source.