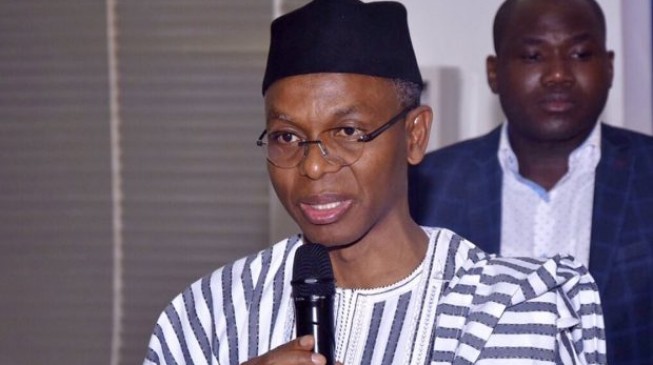 Nasir el-Rufai, governor of Kaduna state, says supporters of President Muhammadu Buhari were not in support of his choice of Aisha Alhassan as a minister.
Speaking with state house correspondents after meeting with the president on Friday, the governor said Alhassan has never been a supporter of Buhari.
He said he was not surprised that the minister openly endorsed former Vice-President Atiku Abubakar.
El-Rufai alleged that the minister voted against Buhari in the presidential primary election of the All Progressives Congress (APC).
Abubakar was among the five aspirants of the APC who sought the presidential ticket, which Buhari won eventually.
"The minister of women affairs, Jummai Alhassan, was never in the Buhari camp. She did not support our candidates during the national convention, she didn't vote for Buhari during the primary," el-Rufai said.
"Out of the largeness of the president's heart and to encourage women, he picked her as a minister.
"What she has tried to do in Taraba (Alhassan contested the 2015 governorship election on the platform of APC) earned her being nominated as a minister. Many in Buhari camp did not support it but he overrode us.
"Her comments are not surprising. She has never been a supporter of the president. She has never believed in Buhari's ideology. So, I am not surprised."
The governor maintained that she was entitled to her opinion and added that it was at the discretion of the president to either retain or replace her.
"As a Nigerian, she has every right to express her views and support whoever she wants," he said.
"What I am saying is that Nigerians should not be surprised or shocked. This has always been her position because from time she has never supported Buharism or what Buhari stands for. Being part of Buhari government is a different thing, because government sets policies and if you are a minister you execute the policies. You can execute those policies while pursuing a different brand of politics."
The minister was at the presidential villa in Abuja on Thursday but did not meet Abba Kyari, Buhari's chief of staff, whom she had gone to see.
Copyright 2018 TheCable. Permission to use quotations from this article is granted subject to appropriate credit being given to www.thecable.ng as the source.