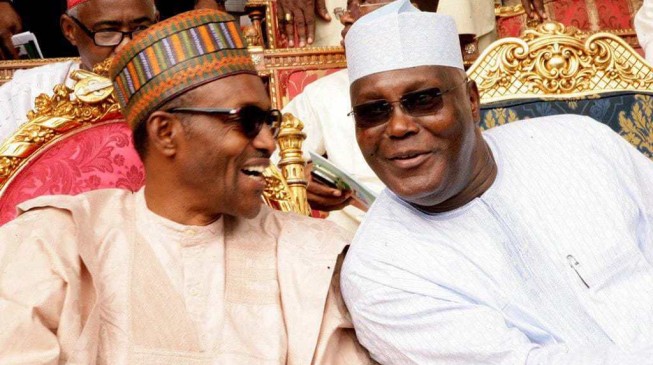 Last week, I argued that the media was very instrumental to the rise of former president Goodluck Jonathan from grass to grace, and his fall from grace to Otuoke. The same media was responsible for the framing of President Muhammadu Buhari, the general who became the perfect sweetheart needed to kick Jonathan out of office.
I showed how Buhari went from being "perceived as a bigot, a religious extremist, a power hungry desperado, a believer in the dog-and-baboon parable" to becoming "a liberal mind, who was no longer a religious extremist, he was no longer a violent man who believed in the dog-and-baboon parable, he was now the sellable candidate".
On the flipside, Jonathan had undergone a transformation that saw him switch from being the civil servants sweetheart, "a messiah, who rose to the presidency by a very strong streak of good fortune" to become the "clueless" one.
I then predicted that the same fate of narrative change was about to befall Abubakar Atiku, suggesting that the media would make you love him, and make you loathe Buhari or vice-versa — depending on how the narratives are framed.
To draw the baseline to which we would compare both men by December 2018 or January 2019, I want to state the most registered public sentiments on both men.
QUICKFACT: Google Trends as at the first week of December, 2017, shows that Nigerians are more interested in information about Atiku than they are about Buhari. The trend has dropped by over 75% for Buhari and increased by over 200% for Atiku.
What we hate about Buhari
The single most important thing I have seen Nigerians loathe about Buhari in recent times is his ambivalent nature to key national issues. Ambivalence can be a virtue, and most times it is, but for the president, this has become a vice.
On Mainagate, the president has not taken any clear side. Cowed by public pressure, he called for the sack of Abdulrasheed Maina from the civil service after the reinstatement that has his handwriting all over it. To make matters worse, the president has said nothing over it, and allowed the confusion linger.
On Ayo Oke and Babachir Lawal, his hand was also forced into action by public pressure, and both men have been left to walk free after their eventual sack. When the Economic and Financial Crimes Commission (EFCC) would act, they went after Ayo Oke, and did nothing about Lawal, the president's wingman. And the president is silent.
For almost two years now, there has been an embarassing coordination between the EFCC and the Department of State Services (DSS) and the president seems to have been in support of the EFCC and the DSS — in the same breathe.
The president has also wasted a lot of goodwill. This needs little or no explanation. Buhari and his party promised to create 3 million jobs a year, but over five million people have become jobless since President Buhari took power — data from the National Bureau Statistics (NBS) has shown.
What we love about Buhari
It was Jimi Agbaje, PDP Lagos gubernatorial candidate, who got famous for saying "I am not one of them". Buhari is not one of them; he is a different breed of leader. He has reputable strength of character, he is seemingly keen on fighting corruption, and he has been able to build a better international brand for Nigeria.
As the GCFR, he has been an inspiration to the military, and this has reflected in the war against Boko Haram. He has done virtually all that Jonathan failed to do regarding the Chibok saga.
Buhari can be said to be a lover of the people. It is difficult to argue that the president does not love the Nigerian people. He seems to have Nigerians close to his heart. The plan to increase minimum wage is also endearing. This will win the hearts of many civil servants living at the mercy of N18,000 per month.
What we hate about Atiku
Abubakar Atiku, as former vice president and customs officer, has  media image of a corrupt politician — however true or false. As recently echoed by IGoDie, the comedian, Atiku did little or nothing for the Nigerian youth as VP.
He is a member of the old order; at 71, he belongs to the old class of Nigerian leaders, he does not represent the new order Nigerians want, no matter how hard he tries.
The Halliburton Scandal is also one of Atiku's heaviest baggage. He has tried unconvincingly to absolve himself of all wrongdoings, but a ban from travelling to the US says a lot about his so called "clean slate".
Also, the former vice president is seen as desperate for power, and that is in no way good for Nigeria and Nigerians. He cannot be trusted to keep his words; he told TheCable in 2014 that the APC will be his last bus stop, but failed to stay true to what he had said.
What we love about Atiku
For now, Atiku seems to be putting Buhari on his toes, and we love this. It has become commonplace on social media that the fastest way to get presidency to respond to a matter is to ask Atiku to speak about it.
Atiku has successfully proven that he is in tune with the youth, especially with his brilliant use of social media. No high profile politician in the history of this nation has annouced his move to a major party via Facebook live. The message is subtle, but loud — Atiku is buying the young voting population over.
Atiku is more of a business success than his opponent, Buhari. Buhari has only succeeded in running a cattle ranch, despite his years in the civil service, and heavy salaries as former head of state. Atiku on the other hand runs a string of businesses, creating jobs and employing young Nigerians. He has a University to his name and is doing some humanitarian work in the northeast.
CONCLUSION: The narrative around both men will change as the political drama gets more plots; we would revisit this closer to the election, and see if the media in Nigeria truly has what it takes to make or mar presidents.
Copyright 2018 TheCable. All rights reserved. This material, and other digital content on this website, may not be reproduced, published, broadcast, rewritten or redistributed in whole or in part without prior express written permission from TheCable.