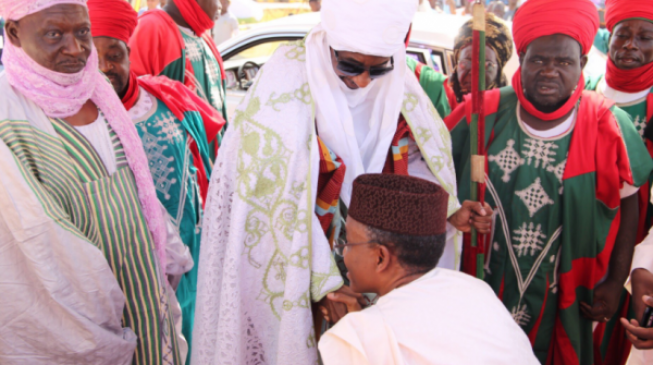 Muhammad Sanusi II, emir of Kano, says he gets into trouble whenever he delivers a speech in Kaduna state.
Speaking on Tuesday at the commissioning of Olam International's feed mill poultry, Sanusi said: "It is always a pleasure to associate with the giant stride driven by my friend, the governor of Kaduna state.
"The problem, of course, is that every time I give a speech in Kaduna, I get myself into trouble."
The traditional ruler's speeches are known to hit a nerve, owing to his critical views on northern Nigeria, girl-child empowerment, and governance.
Speaking further at the event, Sanusi said the agricultural sector is crucial to securing employment for Nigeria's teeming young population.
He added that the sector is not only important to food security but also necessary for national security.
"Nigeria has a population of 170million. In the next 20 years, we are going to have 85 million Nigerians within the ages of 20 and 40. That is more than the population of Germany, the world's third largest economy," he said.
"The only way we are going to provide for this mass of young men is to invest in Agriculture and industry. So, this is not just about food security, it is about the security of our nation."
He urged Nigerians to invest in the productivity and profitability of agriculture, as it is "one of the main drivers of security for this country in the future".
He added that the number of direct and indirect jobs that will be created by the initiative gladdens him.
"Development is now being driven by cities and not by the federation. Everywhere in the world now, it is the city of Ney York, city of Atlanta, city of Chicago, city of London, city of Pari, city of Tokyo," he said.
"So, the governors are far more important in development in Nigeria than the federal government and the only way to bring development to the grass root is for every governor to go out internationally and locally to encourage private investment and create jobs in his state."
On a lighter note, Sanusi asked Olam International to make Kano state its next site of investment, saying, "We can compete with Kaduna on ease of doing business. Kano is a much bigger market with a longer history of commerce. So I'm out here to market Kano".
Copyright 2018 TheCable. Permission to use quotations from this article is granted subject to appropriate credit being given to www.thecable.ng as the source.