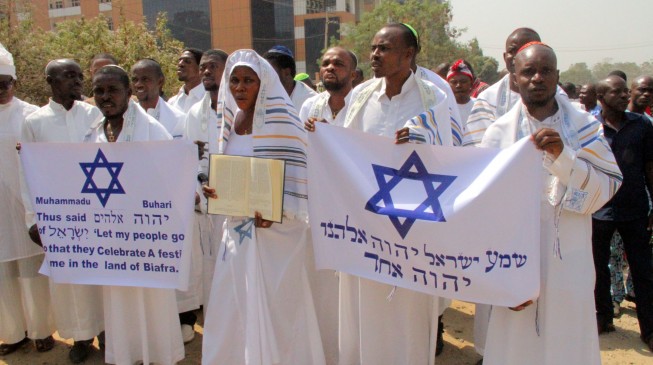 Members of the Indigenous People of Biafra (IPOB) in Jewish garments besieged the federal high court in Abuja on Tuesday to protest the trial of Nnamdi Kanu, their leader.
The protesters gathered outside the premises of the court after they were refused entry by security.
A detachment of armed police officers, operatives of the Department of State Services (DSS) and men of the Nigeria Security and Civil Defence Corps (NSDC) encamped the court, restricting movement into the place.
The "Igbo Jews" demanded the immediate release of Kanu and an end to his trial.
Members of IPOB refer to Kanu as "Nwachineke", which means "son of God" – a reference to the Jew-born messiah.
Some sections of the Igbo, including IPOB, believe they have Jewish ancestry.
To show his "Jewishness", Kanu comes to court with a Jewish fabric draped on his shoulders.
According to a Wikipedia entry, an early statement from an Igbo man, Olaudah Equiano, a Christian-educated freed slave, "suggested a migratory origin of the Igbo Jews" in his autobiography of 1789.
Some also describe the Igbo as the "lost tribe" of Israel.
"The son of Yaakov, Jacob, [was] Gad and I learned that he was among those people who went out of Israel to exile," a teenage "Igbo Jew" told CNN in 2013.
"So from there he had a son called Eri and a son gave birth to a son called Aguleri and that's how the Igbo race began."
Copyright 2018 TheCable. Permission to use quotations from this article is granted subject to appropriate credit being given to www.thecable.ng as the source.