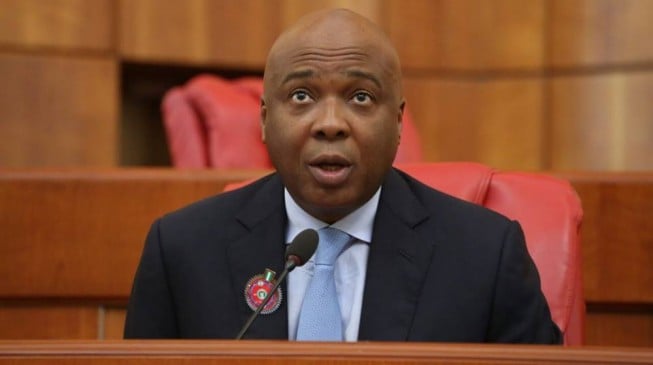 Senate President Bukola Saraki, Nigeria's chief lawmaker, seems to be making a farce of the law enacted by the national assembly, checks by TheCable have revealed.
Saraki, who has been increasingly critical of the privatisation of the Nigerian power sector, recently visited Germany, one of the best performing countries in terms of sustainable energy, where he misrepresented Nigeria's laws.
"As part of my official visit to Berlin, Germany, I visited a German Village, Feldheim, where residents combine efforts and local resources to produce clean and renewable energy," Saraki said, via his Facebook account.
"Power supply remains top in the agenda of the Senate as it is a key instrument for eradicating poverty and unleashing the potentials of the people. That is why we had a workshop on power sector last month. It is also why we are here to see the experiment and success of the people of Feldheim and see what our people can learn from it. We have to amend the laws to allow communities to generate energy that is more than 10 megawatts…"
CLAIM: COMMUNITIES CAN'T GENERATE OVER 10MW
From Saraki's claim, Nigerian laws do not allow communities to generate more than 10 megawatts of electricity.
Checks by TheCable however showed this to be totally inaccurate.
According to the Electric Power Sector Reform Act 2005, passed by the national assembly, communities can generate more than 10 megawatts of electricity as long as they have licences to do so.
Section 62 of the Act, says "no person, except in accordance with a licence issued pursuant to this Act or deemed to have been issued under section 98 (2), shall construct, own or operate an undertaking other than an undertaking specified in subsection(2) of this section".
The law goes on to state that "notwithstanding subsection (1) of this section, a person may construct, own or operate an undertaking for generating electricity not exceeding 1 megawatt (MW) in aggregate at a site or an undertaking for distribution for electricity with a capacity not exceeding 100 kilowatts (kW) in aggregate at a site, or such other capacity as the commission may determine from time to time, without a licence."
This means an individual can generate 1MW of power, without the need for a licence, and a comity of individuals may be able to generate as many megawatts as necessary for their needs — as long as they are licensed.
VERY PRESENT EXAMPLES
According to the Nigerian Electricity Regulation Commission (NERC), Nigeria has already issued 24 licences to companies and communities who seek to creatively generate more than 10MW of power off the national grid.
In 2015, for instance, the Akwa Ibom state government, promoters of the Ibom Power Plant, secured licence to do 685 megawatts of power off the grid.
Steven Andzenge, the commissioner of legal and licensing and enforcement at the time, revealed that the commission had issued 126 licences with combined capacity for 35,314MW on-grid; 428.12MW off-grid and 298MW embedded power generations.
In January, Vice-President Yemi Osinbajo flagged off an off-grid solar energy initiative by Azuri and the Niger Delta Power Holding Company (NDPHC) to deliver clean energy to 20,000 rural households currently living without electricity.
The flag-off of the "PayGo Solar Home Systems" took place at Wuna village of the FCT.
Question: what then does Saraki want to amend?
Copyright 2018 TheCable. Permission to use quotations from this article is granted subject to appropriate credit being given to www.thecable.ng as the source.