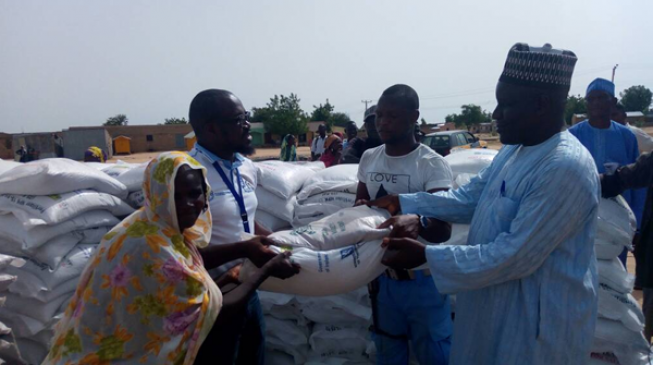 The Food Agricultural Organisation (FAO) says it supported about 141,000 internally displaced persons (IDPs) in the north-east with agricultural inputs.
Nourou Macki-tall, acting country representative of FAO, said this on Friday during the flag-off of presentation of the inputs to 1,500 IDPs at Shagari area in Maiduguri, Borno state.
He said the inputs are to aid them with farming during the rainy season.
Macki-tall said the farmers comprise 67,000 drawn from Borno, 41,000 from Yobe and 32,000 from Adamawa states.
He said the exercise was conducted in partnership with world food program (WFP), social welfare network initiative and the Borno state ministry of agriculture.
"We are targeting farming communities who lost their means of livelihood in Borno, Yobe and Adamawa states," he said.
"Farming was the basic means of livelihood for most of them and they have not been able to farm for quite some time.
"What we have here today is the symbolic presentation – provision of rainy season agricultural inputs distribution to crises affected population in Borno state.
"In March 2017, FAO and federal ministry of agriculture conducted the cadre harmonise vulnerability analysis that estimated around 5.2 million people that will face high level of food insecurity in the north-east
"With the recovery of hitherto vacated lands and restoration of rrelative peace in some liberated communities, the need for the people to get back their lives together cannot be over emphasied."
Some of the things, he said, were given to the beneficiaries include cowpea, cereal, millet and okro seeds, fertilizers, amarantus among others.
Olisa Eloka, country director of Social Welfare Initiative – a non-governmental organization – said the NGO aided 900 farmers in towns in the region liberated from insurgency.
"In some communities, we focused on households predominantly headed by women IDPs. We have been working with the military to create more farming," he added.
Copyright 2018 TheCable. All rights reserved. This material, and other digital content on this website, may not be reproduced, published, broadcast, rewritten or redistributed in whole or in part without prior express written permission from TheCable.