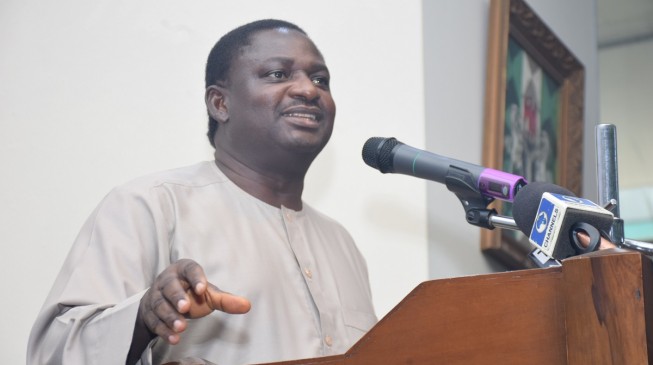 Femi Adesina, special adviser on media and publicity to President Muhammadu Buhari, has raised concerns over the "hate and diabolic thoughts" some Nigerians are filled with.
Writing on his Facebook page on Saturday, Adesina wondered why these Nigerians are always "in the gall of bitterness and bondage of iniquity," never expecting anything good to happen to the country.
He said what such people need is a total restructuring of the mind.
"Some people spend their lifetime expecting thunderstorms and hurricanes, so they never enjoy showers of blessing. Their addled minds expect negative news, so they never enjoy good tidings. Restructuring, restructuring, that is what such minds need," he wrote.
"It (Nigeria's exit from recession) was cheery news for majority of Nigerians, save for those in the gall of bitterness. They spat in the sky, and collected the spittle with their faces. Who gave Nigeria the permission to exit recession? Who gave her the audacity of hope?
"How can the economy attempt to rebound, when it should sink deeper and deeper into the miry clay? They were in the doldrums, unhappy because good news came for the country.
"The party in power is not my own, so why should Nigeria make progress under it? They, therefore, throw all sorts of tantrums and attempt to rubbish the news on exit from recession. Left to them, they wish that when NBS releases results for the next quarter, Nigeria should have gone back into recession. Filthy dreamers! Awful imaginations!
"When they speak hateful words, they speak their native language, their mother tongue. Don't mind the elevated offices they occupy now, or which they have occupied in the past. They are in the throes, in the paroxysms of bitterness. Only a restructuring of the mind can save them."
Harping on the call for Nigeria's restructuring, Adesina said what is more urgent is the "restructuring of the Nigerian mind".
According to him, "so loud is the cacophony of voices over restructuring that if you ask 100 people what they mean, they give you 100 different explanations.
"However, is political restructuring the most urgent thing Nigeria needs now? I don't think so. For me, what is more urgent is the restructuring of the Nigerian mind. A mind that sees the country as one, that believes that we have a future and a hope, that believes that we are one people under God."
Copyright 2018 TheCable. Permission to use quotations from this article is granted subject to appropriate credit being given to www.thecable.ng as the source.