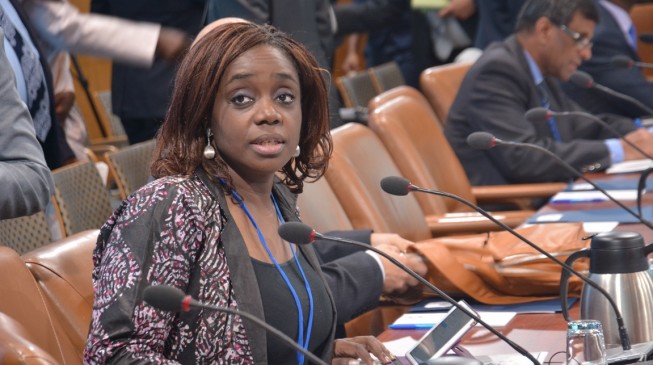 Kemi Adeosun, minister of finance, says the federal government is ready to release N350 billion, being the first tranche for implementation of the 2017 budget.
Adeosun said this on Monday in Abuja at the public presentation of 2017 appropriation act.
She said the federal government has enough cash available to immediately commence the execution of key projects and initiatives scheduled for the 2017 fiscal year.
"We are ready, we are having a cash plan meeting very soon and after that, N350 billion will be released as the first tranche of capital releases for the 2017 budget," she said.
Udoma Udo Udoma, minister of budget and national planning, said funding of projects would now be on project-based release system to curb waste of public funds by ministries, departments and agencies (MDAs).
He also said part of the requirement for capital releases was evidence of compliance with the Bureau of Public Procurement Act.
Udoma warned MDAs against entering into any foreign denominated contract without the approval of the ministers of budget and national planning, and finance.
Udoma also said the federal government would strengthen its monitoring and evaluation framework to improve physical inspection and impact assessment of projects and programmes implemented by MDAs.
"We are worried and concerned about the number of abandoned capital projects scattered in their thousands throughout the country, which we inherited from previous administrations.
"We know that you can't continue doing things the same way and expect a different result, so we have to do things differently. We need to have more targeted releases. We have to look at the projects which are important and can easily be completed.
"The ministers are working together to ensure that over time, we concentrate our resources on completing important projects so that we have maximum impact."
Udoma also said the ministry was working with the national assembly to get the country's fiscal year adjusted to between January and December.
He said this could only be achieved when the executive and legislature work together to ensure that the budget was submitted, passed and signed before December 31, 2017.
Speaking at the event, Ben Akabueze, director general, budget office of the federation, said the office had introduced a new system known as Citizen Portal.
Akabueze said the portal, which can be found on the budget office website, provides the masses insights into the 2017 budget in a non-technical way.
"It is important for citizens to understand the budget, especially its key deliverables and their role in its implementation," he said.
"When citizens do not fully understand the budget, it significantly limits their ability to engage with the budget process and hold government accountable for the prudent management of financial resources entrusted to it."
Copyright 2018 TheCable. Permission to use quotations from this article is granted subject to appropriate credit being given to www.thecable.ng as the source.