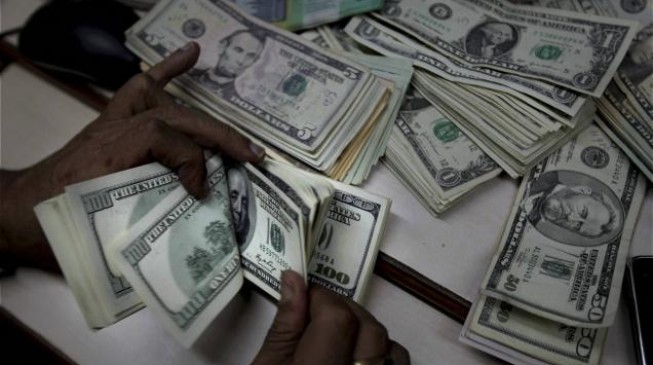 Godwin Emefiele, governor of the Central Bank of Nigeria (CBN), says the nation's foreign reserves have risen to $38.2 billion, its highest point in 39 months.
Emefiele made this known on Tuesday while commissioning Unilever Plc's 10,000 metric tonnes Blue Band factory in Agbara, Ogun state.
"We have seen reserves move up from the $23 billion I talked about in October 2016, but as I speak today, external reserves are $38.2 billion."
The governor said the Unilever plant was possible because of the foreign exchange restrictions placed on 41 items.
"When the restriction of foreign exchange (forex) for the 41 items came on board about two years ago; before that time, Unilever had a factory producing Blue Band margarine. But margarine was also part of the 41 items.
"The managing director and the executive team of Unilever Nigeria visited me in Abuja and said they wanted us to grant them some form of forbearance. I said there was not going to be any forbearance, but that if he promised to re-establish the factory in Nigeria because as at that time their factory had been dismantled in Nigeria and taken to another country.
"And he (Unilever managing director) made a promise that between 12 to 18 months the factory would be re-established in Nigeria. Based on that, we granted them some form of forbearance that made it easy for them to import margarine into Nigeria, but we kept monitoring them and we were discussing.
"The entire essence is to say that by re-establishing that factory here in Nigeria, he has created direct jobs for Nigerians in this factory. He created indirect jobs for Nigerians by virtue of the fact that he buys palm oil which is part of the formulation that he uses in producing margarine.
"What does it take produce margarine? It is mixing oil and water. By creating indirect jobs by buying from people producing oil in Nigeria, he feeds millions of people.
"That is the entire idea. I keep saying we do not have foreign exchange to allocate to import products that can be produced in Nigeria. I am happy that Unilever has proved us right that Blue Band margarine can be produced in this country.
"So far they are doing about 10,000 metric tonnes per annum and he has promised that he is going to ramp it up to 50,000 metric tonnes. By doing so you create jobs, which is what we are talking about. By creating jobs, you save the country forex that is needed to create jobs."
Copyright 2018 TheCable. All rights reserved. This material, and other digital content on this website, may not be reproduced, published, broadcast, rewritten or redistributed in whole or in part without prior express written permission from TheCable.