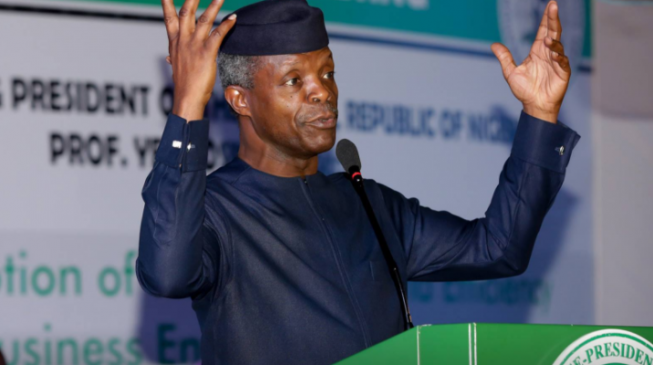 Vice-President Yemi Osinbajo has said the profitability of Nigeria's oil is gradually declining.
Speaking during the second national council on Niger Delta meeting held in Akure, Osinbajo said the plan by many countries to phase out cars that run on petrol and diesel in a no-distant future poses a huge threat to Nigeria.
He said some countries have even discovered "alternatives for oil" and as such, they would no longer need to patronise Nigeria's major source of revenue.
"Many countries are getting alternatives to oil, the development which would make the resource unprofitable in a few years," he said.
"The future of oil is declining, which is why it is the duty of all stakeholders to explore all the opportunities now and to ensure we are not constantly battling with the security of the pipelines we should have used the resources to develop other potentials of the region.
"It is the duty of this council to ensure we provide the road map for the future that will not necessarily depend on oil. It is obvious that oil is not going to last forever. As a matter of fact everything that we see showed that oil is declining very quietly.
"There is no reason why we should not develop other potentials apart from oil in the region. If we can do this the full potential of the region will be fulfilled and our collective vision will be realised."
The United Kingdom had in July announced that it intends to ban cars that run on diesel and petrol beginning from 2040 while France, in the same month, indicated its aim to become carbon neutral by 2050.
Most recently, China, the world's biggest car market, said it wants electric battery cars and plug-in hybrids to account for at least one-fifth of its vehicle sales by 2025.
Germany, India, Norway and Netherlands are some of the other countries looking to do away with cars fueled by petrol and diesel.
Copyright 2018 TheCable. Permission to use quotations from this article is granted subject to appropriate credit being given to www.thecable.ng as the source.