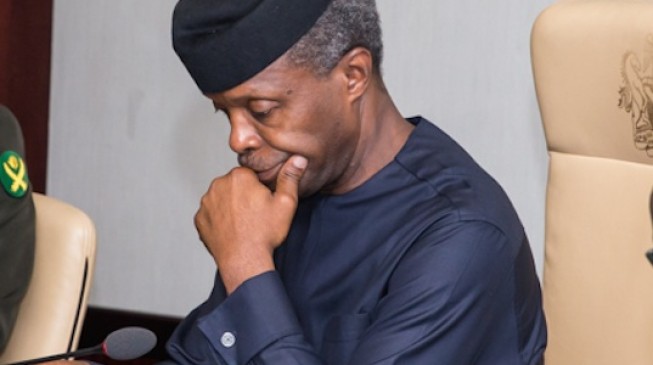 A group Osinbajo Volunteers has launched an online campaign presenting Vice President Yemi Osinbajo as the "right" candidate to become Nigeria's next president.
But the vice president's spokesperson Laolu Akande, said the group's agenda is "mischevious".
According to the information on the group's website, Osinbajo is "the right ruler" Nigeria needs.
It describes Osinbajo as "a leader who has a clue on what to do and turn Nigeria the beloved to the land of our dreams".
The group, which stands for "one indivisible Nigeria", according to its logo, has its headquarters in Belfast International Airport, Northern Ireland.
The group, however, adds that the vice president has no connection with the campaign as "we have never met him".
"Note that Osinbajo did not endorse this volunteer group," it says.
"We are strong believers in the fact that he is the right ruler for Nigeria and must create a people's volunteer base for him."
The group's site features recent news involving the vice president as well as pictures of him attending some national and international functions.
Some of the events featured include the recent United Nations security council meeting and the inauguration of Rwandan President Paul Kagame.
"Let us make history together," the group said as it enjoined Nigerians to come aboard either as volunteers or members.
Akande, in a tweet on Saturday, said the website has nothing to do with his principal.
"Please disregard this website created by faceless people for mischievous purposes. It has absolutely nothing to do with the Vice President," he wrote on Twitter.
Copyright 2018 TheCable. Permission to use quotations from this article is granted subject to appropriate credit being given to www.thecable.ng as the source.