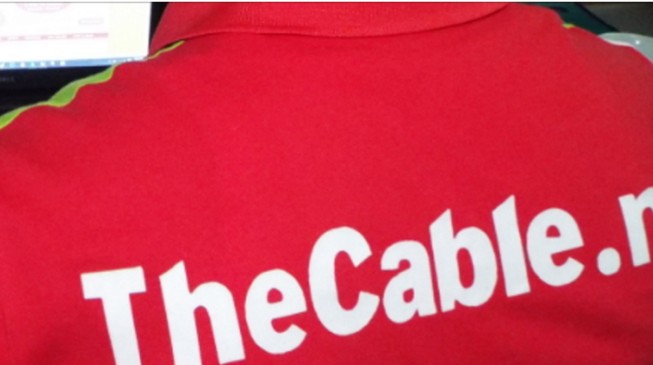 TheCable, your favourite online newspaper, is three today.
The website was launched with a colloquium at the Lagos City Hall on April 29, 2014 "to deliver knowledge-driven journalism in the pursuit of Nigeria's progress".
It was the first online newspaper in Nigeria to be launched with a public event.
It promised to deliver news and features "with speed and simplicity" and contribute intellectually to the development of Nigeria.
Simon Kolawole, founder and CEO of Cable Newspaper Ltd, said at the launch that TheCable was not going to be a blog or an aggregator but would provide original content of quality news and features — principally on politics and economy.
He described TheCable as "a newspaper without the newsprint", promising the highest standards of professionalism "in a very difficult cyber terrain where anything goes".
Today, the newspaper is widely commended for its speed in breaking news and the richness of its features such as profiles, tributes, obituaries and fact checks.
The website has also become a reliable resource for many core and marginal news outlets who re-publish the stories, although many do not acknowledge TheCable.
TheCable's reports have been quoted in globally respected media giants such as New York Times, Bloomberg, bbc.co.uk and Al Jazeera, while its reporters have covered several events outside the country, including World Bank/IMF meetings and FIFA World Cup.
Significantly, TheCable is noted for moderating comments on stories, making it difficult for people to post hate speech and fraudulent messages such as "Customs is auctioning cars" and "Cheat MTN".
"It comes at an extra cost for us," Taiwo George, the editor, said on comment moderation.
"We had to put someone on it. We have failed more than 200,000 comments in three years and we are glad that those who want to post inappropriate comments now know that TheCable is the wrong choice.
"People often tell me there are no enough comments below our stories but they don't know how glad we are. We are not an online newspaper just looking for page views — we have a professional and moral responsibility to encourage decent discourse."
Reviewing the first three years of the newspaper, Kolawole said the running cost of TheCable "is a bit high because of the extent of our work and the professional requirements, including staffing and subscription to news agencies, but we have managed to survive three years without defaulting on our obligations to anyone by even one day.
"I am aware of several rumours out there about the ownership of TheCable. In the last three years, we have heard the names of big people being bandied around as our financiers. Names like Dangote, Tinubu, Fashola, Oronto Douglas, and so on. The truth is: we don't have any sugar daddy. We financed the entire project from our sweat. We did not take any donations or loans from anybody. Nobody gave us one kobo.
"Thankfully, we are very much within our five-year profitability target. By 2019, we hope to be financially sound enough to embark on the next phase of the project. We are meeting other targets quite well."
The Launch
The newspaper launch on April 29, 2014 was chaired by Abdulsalami Abubakar, retired general and former head of state, while the panel of discussants featured John Momoh, founder and chairman of Channels TV; Babatunde Fashola, then governor of Lagos state and current minister of power, works and housing; Segun Ogunsanya, MD/CEO of Airtel Nigeria; and Chris Anyanwu, then the senator representing Imo central.
Aliko Dangote, president and CEO of Dangote Group, was to be on the panel but he was away in the US. He sent a video message of support.
The panel discussion on "[email protected]: Reflections on the Future" was moderated by Nduka Obaigbena, editor-in-chief and chairman of THISDAY Media Group and Arise TV Networks, while the entire event was compered by Kadaria Ahmed, media entrepreneur and seasoned journalist.
Abubakar urged Nigerian politicians to refrain making statements that would further endanger peace and unity in Nigeria, asking them to focus instead on the development of the country.
The Biggest Stories
The Most Shared story…
The Most read story
The Awards
TheCable has been nominated for several awards home and abroad.
'Fisayo Soyombo, the pioneer editor of TheCable who has now left the services of the company, won the Nigerian Investigative Journalist of the Year at the 2016 Wole Soyinka Awards for Investigative Reporting. He won with Forgotten Soldiers, a five-part series published in June 2016.
This was a day after he emerged winner of the Maritime Economy category of the Zimeo Excellence in Journalism Awards organised by the African Media Initiative, in Nairobi, Kenya, for  UNDERCOVER: Nigeria's 'Customs of corruption, bribery and forgery'.
In November 2016, he won the Newcomer of the Year — Hans Verploeg Award at the 2016 Free Press awards, which held in The Hague, Netherlands.
That award came a month  after he was named Journalist of the Year (Business and Economy Reporting) in the PricewaterhouseCoopers Awards.
Mayowa Tijani, staff writer and multi-talented journalist, has also bagged a couple of nominations for media awards.
The Biggest Gaffe
It has not been a bed of roses, though.
TheCable has committed several mistakes, but the biggest, by impact, was the false report in May 2015 that Wole Soyinka, professor and Nobel laureate, made hate remarks against the Igbo in far away US. It was the lowest moment for the newspaper.
"We discovered that it was the interpretation of the reporter at the event and not the actual words of Professor Soyinka. The embarrassment was universal for us, and sadly there were those who stopped trusting our stories after the episode," Kolawole said.
"It was a traumatic experience. There were more than 100 things we did wrong with the Soyinka story going by our standards. For one, as a matter of editorial policy, we don't publish hate speech. What was attributed to Soyinka was hate speech. So we shouldn't have published it at all even if he said it.
"It was when people started abusing my mother on Twitter that my attention was drawn to the story. I read it and said the Soyinka I know can never say a thing like this about the Igbo. We duly apologised. We survived the backlash but we still carry the scar in our hearts."
By practice, TheCable apologises and retracts false or inaccurate stories.
The Future
TheCable's stated vision is to become the most respected online newspaper out of Africa.
"We want to achieve this through the quality of our contribution to the development discourse and through our professionalism. That's why we talk about knowledge-driven journalism," Kolawole explained, highlighting the newspaper's partnership with the Cable Newspaper Journalism Foundation (CNJF) as a new driving force.
CNJF has received support from the John D. and Catherine T. MacArthur Foundation for its Policy Radar Initiative (PRIN), which will deploy investigative journalism to promote accountability and good governance in partnership with TheCable.
"We are probably just doing a fraction of what we are capable of, but our strategy is to perfect one thing before moving to the other. We are moving forward steadily and that is very encouraging," Kolawole added.
Thank You, Advertisers
TheCable has enjoyed critical and consistent advertising from Dangote Group, MTN Nigeria, United Bank for Africa (UBA), Zenith Bank Plc and Nigerian Communications Commission (NCC). These are our biggest advertisers.
Other advertisers who have associated or are still associating with the newspaper are the Central Bank of Nigeria (CBN), the Federal Inland Revenue Service (FIRS) and Airtel Nigeria.
Those who have given TheCable some form of advertising at one point or the other include Diamond Bank Plc, Fidelity Bank Plc, Access Bank Plc, Nigeria Breweries Ltd, HP, Arik Air, Bank of Industry, Nile University of Nigeria, National Electricity Regulatory Commission (NERC) and the governments of Osun, Kwara, Sokoto and Bayelsa states.
"Without advertising support, we would not be here. We always appreciate those who have kept the business going and those who would still come on board," Kolawole said.
"One of the most uncomfortable things we found out is that advertisers would rather spend money on websites that engage in blackmail, intimidation and plagiarism rather than the professional ones that deliver quality news. TheCable is generally classified as low-risk, meaning we are not priority for some advertisers who prefer to appease blackmailers.
"That is why every year, we send letters of appreciation to advertisers for the business they give to us and for valuing the kind of journalism we practise.
"We understand that people even pay to have their stories published as editorial materials. We do not charge for stories. We run stories free of charge, except they are promoted posts and we identify such materials appropriately."
Thank You, Friends
There is an uncountable number of friends, associates, well wishers and readers who have contributed tremendously to the growth of TheCable in the last three years, most of whom cannot be named here for strategic reasons.
Two online investigative giants, Premium Times and Sahara Reporters, are specially acknowledged for the role they played in welcoming us to the market, as well as the International Centre for Investigative Reporting and the Wole Soyinka Centre for Investigative Journalism for supporting our investigative endeavours.
Mainstream print newspapers such as THISDAY, Punch, Daily Trust, The Nation, Vanguard, Tribune and New Telegraph come for particular mention, along with Channels TV, Nigeria's broadcast news leader, for their direct and indirect endorsement of our brand.
Our gratitude goes to the following persons: Olusegun Adeniyi, Kole Shettima, Tony Elumelu, Peter Obi, Emeka Oparah, Adeyeye Joseph, Nnamdi Okonkwo, Dele Odufuye, Ochi Ogbuaku, Sunny Hughes, Tony Ojobo, Muyiwa Akintunde, Shina Badaru, Chidi Odinkalu, Sam Amadi, Taiwo Obe, Jenkins Alumona, Anyim Ude, Kufre Ekanem, Chido Nwakanma, Idowu Ajanaku, Chukwuma Nwokoh, Goke Akinrogunde, Olumide Iyanda, Azubuike Ishiekwene, Louis Odion, Bamidele Johnson and Tanko Yunusa Abdullahi.
Bolaji Abdullahi, Ijeoma Nwogwugwu, Kayode Komolafe, Eniola Bello, Babatunde Ojikutu, Olufemi Awoyemi, Edem Vindah, Emeka Onwuka, Kester Osaheyen, Funso Aina, Lanre Issa-Onilu, Dele Oyawa, Emeka Maduegbuna, Moruff Adenekan, Ebuka Nwankwo, Isaac Okorafor, Kingsley Obiorah, Tony Chiejina, Paul Nwabuikwu, Ayodele Aminu, Tope Ajayi, Okoh Aihe, Shaka Momodu and Aniebo Nwamu are highly appreciated for their encouragement and contributions to our story so far.
On the social media, there are people who have taken it upon themselves to share our stories without our prompting and have contributed in no little way to our growth. Again, it is impossible to name everybody here.
Tolu Ogunlesi, Japhet Omojuwa, Ayo Obe, Daniel Ikwuagwu, Tunji Ladner, Oby Ezekwesili, Tokunbo Afikuyomi, Ekanem Etim-Offiong, Kayode Tijani, Kasali Kayode Ganiyu, John Upah, Afolabi Gambari and Maero Ozako have helped tremendously in the growth of our brand through their social media engagement.
We also acknowledge the support of Samuel Ajayi, Tola Sarumi, Jubril Gawat, Saleh Shehu Ashaka, Irene Achamaja, Dolapo Oni, Yinka Ogunnubi, Shagari Sambo, Olajide Alex, Karo Agono, Temitayo Famutimi, Alexander Udoma, Ibereola Abigail, Abiola Stephanie Afolabi, Bilyaminu Abubakar and many others that we cannot name here.
Finally, we say "thank you" a million times to the millions of readers who visit our site every month. You inspire us!
Copyright 2018 TheCable. Permission to use quotations from this article is granted subject to appropriate credit being given to www.thecable.ng as the source.