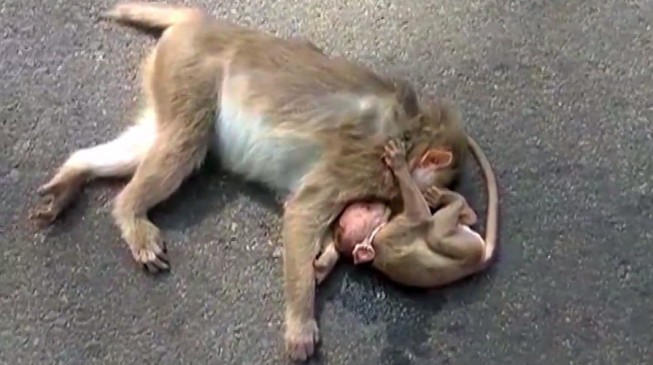 This heartbreaking video shows a baby monkey weeping over its dead mother's body after the mother was killed in a road traffic accident.
The incident took place in southern India.
According to Times of India, the monkey was knocked down by a vehicle in transit as the mother attempted crossing the road near Elanthur, Kerala.
A witness said "losing a loved one will be painful for not just human beings. Animals too mourn. We saw the young monkey weeping over the carcass of its mother".
The baby monkey saw its mother being knocked down by a vehicle while it was crossing the road. It rushed to its mother that lay on the road.
The baby monkey tried to wake its mother and hugged her. It kept its ears on her chest as if checking her heartbeat. Soon it realised that the mother had died, and it started to weep.
Police personnel separated the young monkey from its mother as villagers carried the carcass to a burial ground.
The villagers conducted the final rites of the mother monkey in the presence of police and forest officials while the baby monkey watched it from a distance.
Video credit: Ruptly
Copyright 2018 TheCable. Permission to use quotations from this article is granted subject to appropriate credit being given to www.thecable.ng as the source.