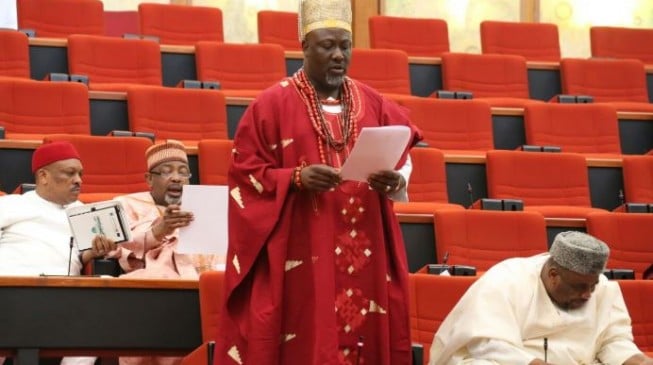 The Independent National Electoral Commission (INEC) says it will release a fresh timetable for the process of recalling Dino Melaye, a senator representing Kogi west, from the upper legislative chamber next Monday.
The electoral body said this in a statement signed by Mohammed Haruna, its national commissioner, on Tuesday.
"All legal hurdles have now been cleared and the recall process can now proceed as envisaged by the constitution, the electoral act and the extant INEC guidelines and regulations", it said.
On Monday, a federal high court in Abuja asked INEC to proceed with the process of recalling the lawmaker from the senate.
In June, the government of Kogi state claimed it had got the signatures of 188,588 of Melaye's constituents for his recall from the senate.
It subsequently submitted a catalog of the signatures appended to a petition to INEC.
Following the submission of the petition, INEC fixed August 19 for a verification exercise – to determine if Melaye's constituents really wanted him out of the upper legislative chamber.
But the lawmaker went to court to challenge the process of his recall. He alleged that some of the signatures attached to the petition for his recall were those of dead people.
In July, John Tsoho, a justice of the federal high court, Abuja,  asked all the parties in the suit – INEC and Melaye – to maintain the status quo until September 14 when he would hear the matter. The court then went on vacation
But Nnamdi Dimgba, another judge of the federal high court, Abuja, on Monday, dismissed Melaye's suit, and asked INEC to proceed with the process of his recall.
Copyright 2018 TheCable. Permission to use quotations from this article is granted subject to appropriate credit being given to www.thecable.ng as the source.