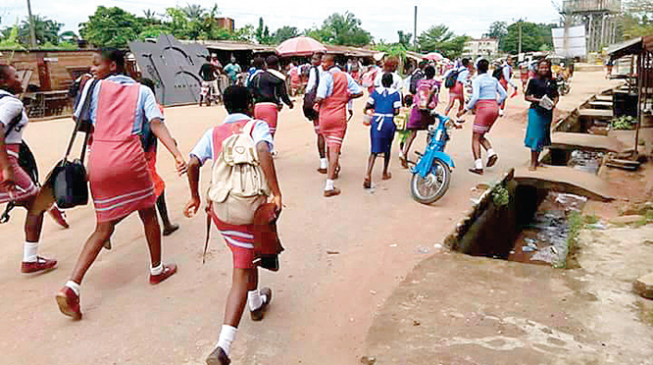 The Igbo for Nigeria Movement (INM), a socio-political group, has accused the Independent People of Biafra (IPOB) of being responsible for the reports that the army was infecting children with monkeypox.
There was panic in the south-east on Wednesday, following a report that the army was forcefully vaccinating pupils with the disease through its medical outreach. and advised parents to immediately evacuate their children.
Many parents evacuated their children from schools.
In a statement on Thursday, Ifeanyi Igwe, national president of INM, described the report as another "wicked attempt" by IPOB to set the Igbo against the army and government.
Igwe said IPOB is laying the groundwork to "kill and destroy" the Igbo people more "than any security agency could have ever done".
He said if monkeypox evolved into an epidemic that required mass vaccination, the allegations by IPOB would prevent people from accepting treatment.
"We want to appeal to Ndigbo to decisively deal with the IPOB problem as it has been established that this lie emanated from this group. Even as the damage is unfolding, Emma Powerful, the supposed spokesperson of IPOB continues to make inflammatory remarks, which were sadly reported by some mainstream media that ignored the fact that his group is a designated terror organisation," he said.
"Unfortunately, IPOB is laying the groundwork to kill and destroy more Igbo people than any security agency could have ever done. The IPOB lies has practically shut down schools. Emma Powerful asked teachers and pupils to stay at home until Operation Python Dance II leaves the south-east. This is going to disrupt education calendar in Igbo areas and this will leave our students at disadvantage since the other parts of the country would not pause their calendar for the southeast.
"Since Operation Python Dance is now poised to be an annual event, are we going to be shutting down our school every year while other regions make progress? Should monkeypox evolve into an epidemic that requires mass vaccination the lies and rumours that have spread like wildfire will prevent people from accepting lifesaving inoculations and treatment. This could cause casualty on a catastrophic scale.
"The vaccines were shipped and conveyed by people in the South that included Igbo yet persons of northern ethnicities that received the vaccines did not wrongly accuse or fear the Igbo even at a time IPOB's hate speech was at its vilest. The lies have set up our people to die needlessly should there be a national health emergency."
Copyright 2018 TheCable. Permission to use quotations from this article is granted subject to appropriate credit being given to www.thecable.ng as the source.