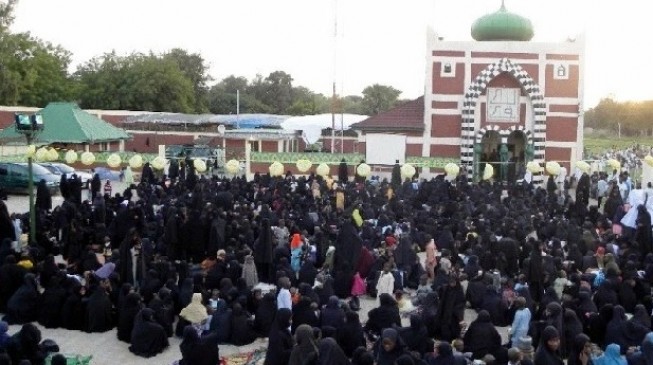 Sheik Muhammad Turi, a leader of the Shi'ia sect in Kano, has been confirmed killed in Zaria following a clash between the sect and the military over the weekend.
Turi's killing has sparked tension in Kano, as members of the sect staged a rally from Saturday night till about 4am on Sunday.
A second rally held on Sunday around Fagged Mosque, popularly known as 'Waje Mosque'.
According to a Kano resident, tens of thousands of Shi'ia members trooped to the nooks and crannies of Kano, passing through the palace of the emir of Kano, Alhaji Muhammadu Sanusi II, and raining expletives on the military personnel attached to Tukur Buratai, chief of army staff.
Yusuf Aliyum, a Shi'ia member who participated in the nocturnal protest, told TheCable that every member of the sect was prepared to fight to his last drop.
According to him, members of the sect had remained peaceful and diplomatic in all their approach so far, and there was no justification for an attack on them.
Another member of the sect, who did not want to be named, criticised the "provocation by the military personnel attached to Buratai's convoy".
"Our members should take into cognizance, the fact that we were defenceless. The military personnel attached to the convoy were heavily armed to the teeth. we lacked the capability to fight them back," he said.
"In Zaria, we suffered a similar tragedy last year when three of the children of our leader, Sheikh El- Zazzaky, were killed. Since that time. nothing was done to call the perpetrators of the cruel act to order.
"We have no reason to act in the way we acted on Saturday, even though we were the ones provoked. We should have trod the path of diplomacy, not confrontation, in achieving our goal. To me, the clash was most unfortunate."
Till date, the ongoing insurgency in the north-east is blamed on a similar clash between Boko Haram and the military, culminating in the 2009 summary execution of Mohammed Yusuf, the sect's leader,
Copyright 2018 TheCable. Permission to use quotations from this article is granted subject to appropriate credit being given to www.thecable.ng as the source.