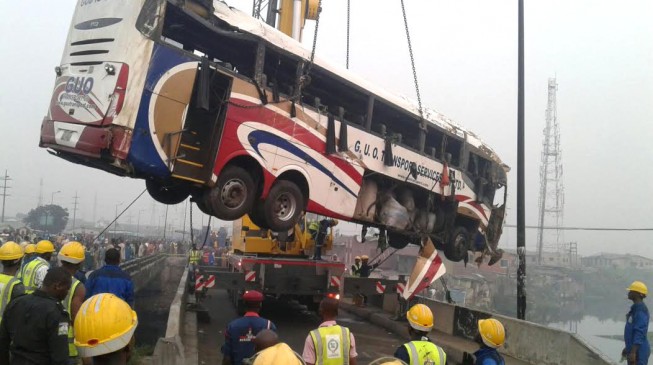 One of the passengers of the bus which plunged into a river at Owode Elede around Mile 12 area of Lagos state, has revealed that rescue operations did not commence until about two hours after the accident happened.
Speaking with TheCable at Ajegunle police station, Owode Onirin, the victim, who simply identified himself as Nnamdi, said he felt the end had come.
Nnamdi said he boarded the ill-fated bus at Benin in Edo state, and that the journey was smooth until the incident at Owode Elede.
He explained that GUO Transport Service Co. LTD, owners of the bus, invited him to the station to write a statement on the accident.
"I joined the bus at a park in Benin last night. I heard it bus was coming from Aba," he told TheCable.
"The journey was smooth. In fact some of us were even cracking jokes… The accident happened in the twinkle of an eye. We started crying for help, but no one came to us. After over one hour, I began to lose hope.
"Some of us were praying, some were just crying. I got confused and didn't know what to do. It was when it almost got to two hours that some men came to rescue us. At that time, three people had died."
Nnamdi, who revealed that he is a trader on Lagos Island, lacked words to express his feelings after surviving the terrible experience.
"I just don't know what to say. Where would I have been by now? It's still like a dream," he told TheCable.
The police officers at the counter declined to speak with TheCable, saying only the public relations officer (PPRO) of the force in the state, was authorised to comment on such issues.
Dolapo Badmos, spokesperson of the Lagos police command, has yet to respond to inquiries by TheCable. The response to a text message sent is still being awaited.
However, a woman, who said her husband was also involved in the accident, was also at the station.
She refused to speak at length and declined to have her pictures taken, just like Nnamdi.
The woman said officials of the Lagos State Emergency Management Authority (LASEMA) had taken her husband to a hospital, but that she had not seen him.
She said she rushed to the office of the transportation company at Iddo in Lagos Mainland, when she heard about the accident, but was asked to come to the station.
The bus, with registration number Anambra GDD 386 YE, was parked around the station as of the time this report was filed.
According to LASEMA, three people died, while 23 sustained injuries in the accident.
TheCable learnt that the accident caused gridlock on the every-busy Ikorodu road in the early hours of Friday.
Copyright 2018 TheCable. Permission to use quotations from this article is granted subject to appropriate credit being given to www.thecable.ng as the source.