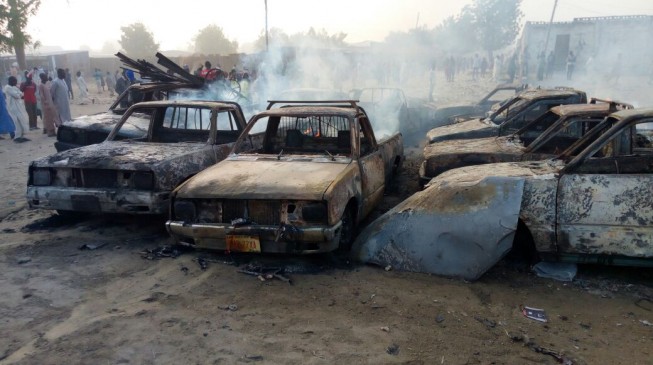 The Nigeria army on Thursday killed six suspected suicide bombers around a checkpoint in Mafa, a community nine kilometers from Maiduguri, capital of Borno state.
TheCable learnt that the six Boko Haram militants came with three suicide bombers, who detonated their explosives at Muna motor park and Muna Dalti, a community located opposite an IDP camp.
Two people were reportedly killed, while eight members of the civilian JTF were injured.
Ba'ani Aliko, a member of civilian JTF, told TheCable that the incident at Muna motor park occurred around 11:30pm, while that of Muna Dalti happened around 2:02am on Friday.
Nine persons were said to have been killed, including the suicide bomber.
Victor Isuku, spokesman of the Borno state police command, later issued a statement on the attacks.
Isuku said a suspected suicide bomber detonated his explosive in the midst of 13 trucks along Maiduguri/ Mafa road.
"On Thursday at about 23:18  hours, a suicide bomber sneaked into the midst of 13 pick-up trucks loaded with goods along Maiduguri/Mafa road, said to be awaiting departure to Gamboru Ngala in the early hours of Friday," the statement read.
"He detonated an improvised explosive devise (IED) strapped on his body."
However, he said only the bomber was killed during the incident as the vehicles were parked empty.
"The resulting explosion razed down the parked vehicles beyond recognition," he said.
"A police patrol team was promptly deployed to the scene to restore safety and normalcy."
Copyright 2018 TheCable. Permission to use quotations from this article is granted subject to appropriate credit being given to www.thecable.ng as the source.