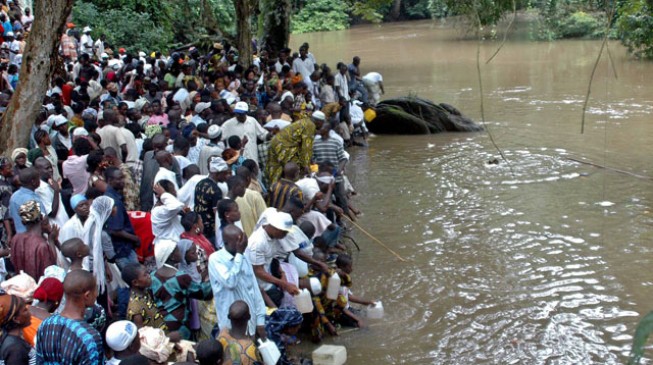 Eurocentric approach and methodologies has always failed Nigeria when it matters most. Truly as much as one believes that there are tourism lessons to learn from the next successful man but the fact that what worked for him may not in the long term, work for me which is also reasonable and objective.
In tourism, consumers respond to products on global market place with different interests and sentiments. Agreed that certain factors such as security, immigration and prices of goods and services must drive an effective tourism enterprise, there is no denying the fact that the attitude and willingness of people or nation to receive visitors other than their own is very crucial.
As a tourism journalist, I have always wondered at the seeming confusion to where our country is headed tourism wise. There are many "experts" and "portfolio" operators out there with little or no practical experience of how to manage Nigeria's huge domestic tourism goldmine.
Indeed, every regime that comes to Nigeria tourism, either dreams of what is happening elsewhere or better still, try to sermonize on how Nigeria can be richer through domestic tourism.
The missing link to the best of my knowledge is the absence of tourism consensus and consciousness. Simply put, the lack of deliberate and sincere approach to issues of domestic tourism has done more damage to the quest to gain commercially and create tourism jobs than the issue of security and possibly, spending power.
Table of doable(s) in the past
Between 1992 and 2010, Argungun fishing and agricultural festival in Kebbi state, Nmanwu festival in Enugu and Kano Durbar, presented some measures of hope to the sustainable growth and promotion of domestic tourism in Nigeria. Even though, not husbanded as major economic contributors to our economy, there were no denying the fact that Nigerians and our political (also military) leaders were on same page on the end definition and socio cultural benefits of these festivals to the unity and rich cultural diversity of our people.
Tour operators such as Tess Travels, WEBISCO and Jimi Alade tours were then in the forefront of private sector intervention to project these festivals as cultural domestic products and brands.
Unknown to many people even to some of the so called tourism egg heads, Tess Travels owned by Mrs. Tereza Ezobi, a former President of National Association of Nigeria Travel Agencies (NANTA) and founding President (coordinator) of Federation of Tourism Associations of Nigeria (FTAN) is on record to had always deployed chartered aircraft to ferry both local and international visitors to these festivals, particularly Kano Durbar and Argungun festivals in Kebbi.
In fact, there was a verifiable list of Nigeria tour operators who created tourism jobs and made significant profit run, packaging these festivals within and outside our shores. The truth in the progressive run of that era is that the military boys and to a large extent, the civilian presidency of Obasanjo gave priority attention to tourism.
I recall the synergy between the travel media and NTDC then led by Aiyegboyin Alabi who spent most of his Civil Service career at National Planning Commission. Alabi as a latter day tourism apostle gave domestic tourism a push, creating and supporting initiatives that kept these festivals as face of Nigeria tourism.
The sectorial argument, then which is still valid today, is that Nigeria's huge 180 million population if deliberately built into consensus and conscious appreciation of the diverse and unique cultural assets, then the world will take notice and fill the airlines heading to our airports on visits.
This approach and reality was what Segun Runsewe spent time and energy explaining and interpreting to the whole country. We therefore cannot forget so soon the strategic orientation and awareness campaign which he embarked upon to make Nigeria and Nigerians realize that "Oil maybe good but Tourism is better" or the indisputable message, "Tourism is life" that stirred our hearts and conscience into tourism actions and to the tourism world, surprised at the significance of Nigeria tourism and its impact on global traffic.
At the World Cup in South Africa in 2010, though Nigeria was kicked out of the games, we simply made up with a creative Nigeria tourism village where our food, fashion and music became the centre of attraction. Runsewe was possibly showing the way for our tourism tomorrow as he brought in a delegation of Nollywood stars and music icons such as Shina Peters, Adewale Ayuba and many others to tell the Nigerian cultural story.
When he left, Nigeria failed to sustain and domesticate that exemplary tourism initiative built with passion and collaboration which would have helped us jump start a homemade practical approach to creating tourism activities and jobs.
I took to these examples to show that it is never a tough deal to reinvent a measure of new beginning for domestic tourism in Nigeria.
The slogan of "Change begins with me" in Nigeria, just as "America first" in America and the Brexit are strong economic messages all designed to domesticate economic and cultural revival around the world.
I don't really know what Folarin Coker will be coming up with at NTDC but anything short of letting change begin with domestic tourism will not be acceptable, though not the type fronted by failed Mbanefo NTDC administration which celebrated native and occult doctors as culture icons.
I will not be tempted to set any domestic tourism agenda for Coker at NTDC neither will I sit on the fence if he fails to read the handwritings on the Nigeria tourism wall.
The Chinese tourism authorities revealed that between 2011 and 2014, more than 10 million people or 10% of its poverty – stricken population were lifted out of poverty through tourism. It is interesting to end this piece with the fact that the Chinese authorities expects that its nationwide tourism development plan will lift 17% of its impoverished population out of poverty by 2020. Folarin Coker, where are you?
Copyright 2018 TheCable. Permission to use quotations from this article is granted subject to appropriate credit being given to www.thecable.ng as the source.