Like Nigeria, these 4 countries will NOT devalue
Egypt, Angola, Tajikistan and Uzbekistan — just like Nigeria — will not be devaluing their currencies despite shrinking reserves and widening gap between parallel and official market rates.
Individuals and businesses across these countries are paying between four and 136 percent more than official exchange rates to get their hands on dollars, a recent Bloomberg survey showed.
On the other hand – following China's devaluation of the yuan in August – Kazakhstan, Argentina and Azerbaijan have devalued their local currencies to boost competitiveness and avoid draining reserves.
According to Bloomberg, Tajikistan's somoni trades for 7.8 against the dollar on the official side, as against 8.15 on the parallel market – four percent difference.
The Egyptian pound, which officially trades for 7.83 against the dollar goes for 8.75 on the parallel market, with the central bank trying to manage the 12 percent gap between both sides.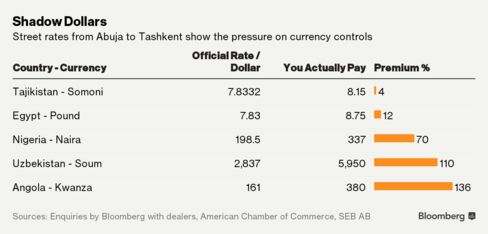 Tarek Amer, governor of Egypt's apex bank, has sought to shore up confidence in the pound by paying foreign stock and bond investors the money owed, while limiting some imports — like Nigeria.
Angola's kwanza is very close to Nigeria's naira, with the official rate being 161, while the black market value is about 136 percent more at 380 to the dollar.
Angola's case shows that devaluation or otherwise policy, may not be effective for the kind of currency challenges facing oil-rich nations across the world.
Angola has been reducing the amount of foreign exchange it makes available to banks and businesses over the past two years to stem the drain on reserves, yet the currency fell to the lowest levels in four years.
The central bank let the kwanza depreciate 24 percent in 2015 and another 15 percent last month – but that has still not closed the gap between both money markets.
Uzbekistan is in a world of its own, with the soum trading at 2,837 against the dollar, officially, and the parallel market trading at 5,950 to the dollar – 110 percent more.
According to President Muhammadu Buhari, the naira would not be devalued, despite its current position on the parallel market – about 100 percent more than the official rate.
Muhammad Sanusi II, emir of Kano and former governor of the central bank of Nigeria, believes the naira has been devalued, arguing that all the government is doing is subsidizing a fortunate number of businesses in the private sector.