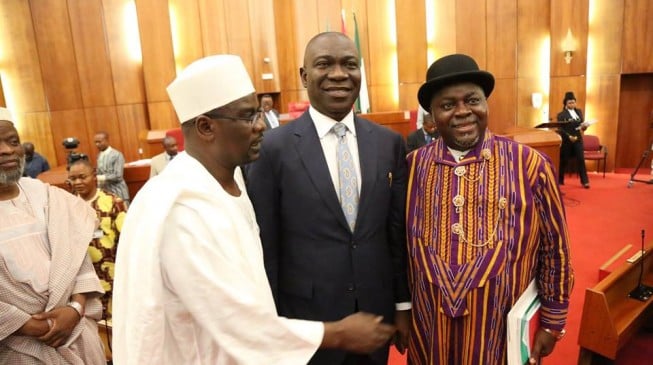 Ali Ndume, ousted senate leader, has accepted Ahmed Lawan as the new majority leader of the upper legislative chamber.
On Tuesday, Bukola Saraki, senate president, announced Lawan as the new senate leader.
Speaking on the floor of the senate on Wednesday, Ndume thanked his colleagues for the opportunity to serve as senate leader.
The former senate leader said although more than 30 senators signed a petition against him, he deserved an opportunity to defend himself against any allegation.
"In my absence [when] I went to pray, there was change in leadership particularly affecting me and I thought it is important for me to be given the chance [to speak]. As I said when I was nominated as the senate leader, I thank my colleagues for the opportunity to serve.
"When I was nominated as the senate leader, I said and I want to repeat today that as a senator, I'm not better than anybody and I believe all of us are equal in this senate. I thank God for the way and courage he gave me to carry on with my responsibilities for one and half years as the senate leader. So I want to thank you honestly.
"I thank God that during my service as the senate leader, most of my colleagues will say 'leader we are proud of you'. I was not found wanting; because of the unity of this senate, three times I offered to resign if that is the case, but I believe God's time is the best.
"You [Ekweremadu] are one those who told me to stop, saying that, I did not become a senate leader to lose confidence of anyone of you. That's why I'm concerned about the loss of confidence; as far as I know, I did not do anything.
"But then, just like that, the senate caucus say they don't have any confidence in me. I did not do anything, to the best of my knowledge. My colleagues — 30-something of them — signed. By the time you are removed, you are supposed to be confronted with allegations to defend yourself.
"If today, just like that, without telling somebody, he goes out, and by the time he is back, he has been removed… If it's me today, it is okay; it may be. God forbid that it is Ekweremadu tomorrow. I wish my brother, the new senate leader — we have been struggling for this for a long time — the best to the service of this important institution."
When he spoke, Ike Ekweremadu, deputy senate president, thanked Ndume for his service to the senate.
Copyright 2018 TheCable. Permission to use quotations from this article is granted subject to appropriate credit being given to www.thecable.ng as the source.