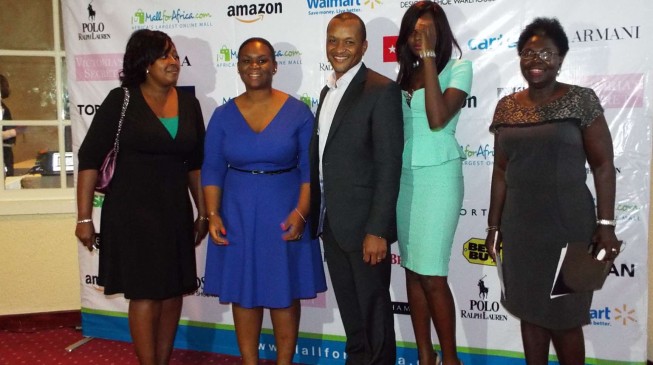 Nigerians based in-country who are willing to purchase wares from markets in Europe and North America will now be able start and complete those transactions from the comfort of their homes.
Mall For Africa (MFA), the Nigerian mall at the centre of the Nigeria-Europe-North America connections, recognises that local purchase of goods from foreign markets is not entirely a new concept, but says this is the first time any virtual mall is addressing several merchant-buyer gaps noticeable in many of the existing platforms.
According to chief executive officer of MFA, Tope Folayan (pictured, middle), these gaps include the challenge of willing buyers against merchants unwilling to sell to Nigerians, merchants specifically blacklisting Nigeria, merchants unwilling to accept Nigerian credit/debit cards, or merchants that have specifically blocked out Nigerian transactions.
"The consequence is that online retail alternatives are limited to shopping at the local open market or mall or from a few select online stores, where they run the risk of settling for overpriced purchases, fake/inferior purchases or just managing what is on offer," Folayan said.
"Another option is to keep a list of items you want and wait until you get a visa and travel abroad to purchase your items on your trip and bring them back with you.
"Or to look for a willing friend or family member living abroad who will purchase the items for you. Then you find another friend or family member to bring them back when they travel. Surely, this excess-luggage nightmare can be avoided."
What Mall For Africa does in this regard is to act as conduit between the online shopper and the merchant, spanning more than 80 shops in the United States of America and the United Kingdom.
In all, prospective buyers can select from more than 8.5 million items, which will be delivered between 10 and 15 working days.
"We pretty much built what I believe is the world's first virtual mall," Folayan said of MFA's operations.
"Where the merchant rejects your payment options (debit/credit cards and so on), MFA accepts these options and completes the transactions.
"Where the merchant blocks out Nigerian transactions, we accept them. Foreign companies usually don't accept individual transactions via local credit cards but because of MFA, they now do."
The entire process of shopping via MFA, he explains, is very easy.
"All willing shoppers need to do is download the MFA app, create an account on mallforafrica.com, and pay with our web card or your master card/verve card, then you receive the items here in Nigeria."
Copyright 2018 TheCable. Permission to use quotations from this article is granted subject to appropriate credit being given to www.thecable.ng as the source.